January 18th 2022
National Apprenticeship Week: School Support
We can't wait for National Apprenticeship Week to begin on the 7th of February!
Our ASK Project Manager, Zoë, is booked to visit careers fairs and schools throughout the week and we will be sharing her sensational sessions and assemblies along with a host of resources and activities.
If you're currently planning for #NAW22, we have a fantastic ASK video series that can be sent to your school in plenty of time for National Apprenticeship Week.
In this series of videos, students can discover all about apprenticeships including how they're structured, what the different levels mean and of course, how much you can expect to be paid! They also showcase examples of companies offering apprenticeships and how to find available apprenticeships too. There's also a comprehensive list of links so learners and parents can find out more at the end!
This offer is open to schools in Cheshire, Warrington, Knowsley & Wirral.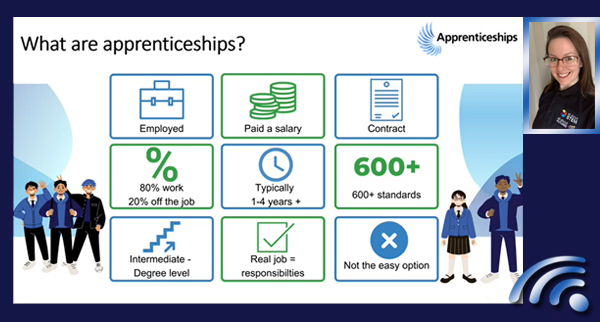 National Apprenticeship Week 2022

National Apprenticeship Week takes place from the 7th to the 13th of February.
The theme for National Apprenticeship Week 2022 will be 'build the future'; reflecting on how apprenticeships can help individuals to develop the skills and knowledge required for a rewarding career, and businesses to develop a talented workforce that is equipped with future-ready skills.
Schools, colleges, employers, training providers and communities can join together to celebrate apprenticeships and spread the word on the amazing opportunities on offer.
ASK About Apprenticeships School Support: Amazing Feedback!
Find out more: ASK Support for Schools
Brought to you in partnership with the National Apprenticeship Service.

All About STEM has been delivering the (ASK) Apprenticeship Support and Knowledge for Schools and Colleges project since March 2017. The project is commissioned by the National Apprenticeship Service to ensure that all young people are fully informed about the brilliant opportunities that apprenticeships offer.
Follow All About STEM on Twitter here
Careers: Follow All About Futures on Twitter here
North Region ASK
Amazing Apprenticeships
« Back To News