March 25th 2022
Primary & Secondary: FREE CREST Discovery Day Training
Extra dates added!
Fantastic news! In the coming months, we are delivering free online training for primary and secondary school teachers across the North West on how to deliver a British Science Association CREST Discovery Day!

The training will be for around an hour, delivered virtually on Zoom, and will run through how schools can deliver the Discovery Day including a run-through of available resources.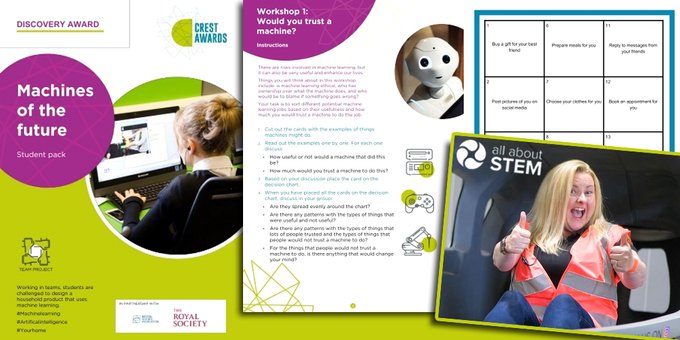 If students participate in the CREST Discovery Day at their school, they can receive a certificate from the British Science Association in recognition of a Discovery Award. Normally, the certificates are £3 per learner however, we have opportunities for schools to access these free of charge, subsidised by us at All About STEM. This is a perfect opportunity to engage students from a STEM Club, if you have one, or simply any learners who enjoy science and want to participate in a short project and get formal recognition for their hard work!
In addition to the BSA Discovery Award, learners can 'double up' by submitting the piece of work they completed during the Discovery Day into the All About STEM Competition, sponsored by Unilever. This means learners get their Discovery Award, and a chance to win in their age category for the All About STEM Competition, with just one piece of work!
Choose your sessions below.
Just click to start you're booking – they're free:
Monday 28th March 4pm
Thursday 31st March 4pm
Tuesday 5th April 4pm
Wednesday 6th April 4pm

Tuesday 26th May – 4pm
Monday 9th May – 4pm
Wednesday 18th May – 4pm
Please feel free to share these links with any other member of staff who might be interested, for example, STEM Clubs leads, Science Teachers, Heads of Department, SLT etc.
Discovery Awards are aimed at ages 10 -14 (approx.)

Registration for the training event is completely free and open to any staff member in any school.

As North West Regional CREST Support Organisation, All About STEM promote CREST Awards across the region and point schools & clubs to the support they need to run this amazing scheme. CREST Awards encourage students to work like scientists, researchers, engineers and designers to investigate and explore their own project ideas.
Follow All About STEM on Twitter here
Like All About STEM on Facebook
Follow CREST North West on Twitter
Follow CREST Awards on Twitter
« Back To News