April 19th 2022
Parent & Student: FREE Apprenticeships Progression Sessions!
The ASK (Apprenticeship Support and Knowledge) programme is a national, ESFA funded offer available to all schools and colleges across the country. Here at All About STEM, we manage the regional ASK contract across Wirral, Knowsley and all of Cheshire.
This progression session is open to students, parents, carers, guardians and families of those looking at their next steps be it post-16, or post-18, who would like to know a little more about apprenticeships generally.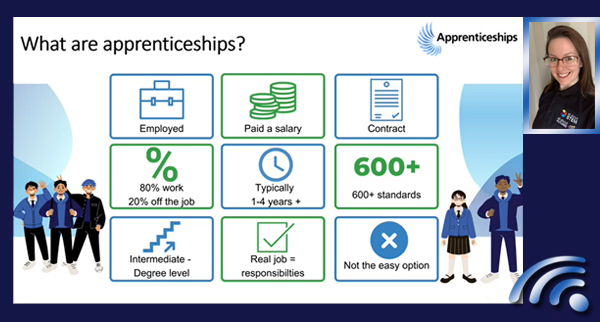 The session will go through what it means to do an apprenticeship, including levels, structure and time commitments, as well as where to find opportunities, how to apply, and what sort of progression and career opportunities are available after completion. This will include degree apprenticeships, and how to access professional careers such as accounting, architecture and law, through apprenticeship routes.
Whether you are just after a little bit of information, or whether you have your heart set on securing an apprenticeship, this session will provide all the information you need to understand the landscape of apprenticeships a little better.
There will be an opportunity for Q&A, and there will be digital resources and additional information sent out after the event also. The event is completely free to attend and will be held via Zoom at 6pm.
Choose your date & click to book:

All About STEM has been delivering the (ASK) Apprenticeship Support and Knowledge for Schools and Colleges project since March 2017. The project is commissioned by the National Apprenticeship Service to ensure that all young people are fully informed about the brilliant opportunities that apprenticeships offer.
Follow All About STEM on Twitter here
Careers: Follow All About Futures on Twitter here
North Region ASK
Amazing Apprenticeships
Tell me more: ASK School Support 2022
All About Futures & All About STEM Events
« Back To News