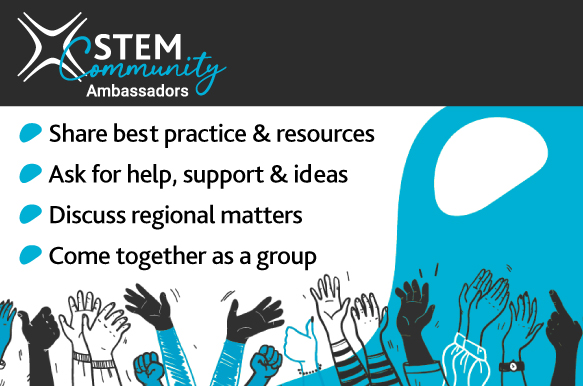 November 15th 2023
The STEM Ambassadors Training Hub
If you're a STEM ambassador joining the STEM Ambassadors Community, not only can you chat with fellow ambassadors, share ideas and collaborate, but you can also find inspirational resources, training and CPD!
Whether you are a new STEM ambassador or have been volunteering for years, the STEM Ambassadors Training Hub has everything you need to fulfil your role.
From the Training Hub homepage, you can navigate to a huge range of training resources, from live online courses to self-paced online training and resources for your development as a STEM ambassador and volunteer. New offers and updates are added regularly too, so be sure to keep popping back.
If you would like any further support, you can visit the STEM Ambassadors Community News & Support Group to chat with other ambassadors, contact the STEM Ambassador Support Team or if you have queries specific to your region, seek advice from your local STEM Ambassadors Partner.
You can find full details and contact links in the STEM Ambassadors Training Hub.

We look forward to seeing you there!
STEM Ambassadors: Join your Community!
Educators & STEM Ambassadors: NEW Connected Community App
Work in STEM – Become a STEM Ambassador
Educators: Join STEM Community

All About STEM works on lots of exciting STEM projects. As part of the STEM Learning family, we are Nuffield Research Placements Coordinator for the North West and a STEM Ambassadors Partner supporting the National STEM Ambassadors Programme via the STEM Ambassadors Community.
Follow All About STEM on Twitter here
Like All About STEM on Facebook
« Back To News