December 01st 2014
Last Chance for Chemistry at Work 2014… Don't miss it!
Our Chemistry at Work days have been a huge success and there's only one date left before Christmas, don't miss out!
Chemistry at Work is a full day event consisting of five hands-on workshops, run by local employers & organisations. Students are able to see how the chemistry studied at school is put into use in the 'real' world.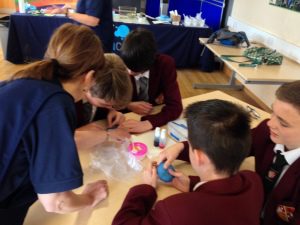 The event is FREE of charge and you can book a group of ten students to attend our host venue, Daresbury Laboratory. The day runs from 9.45am – 3.00pm.
Date: 
Tuesday 09th December 2014 – 9:45 am
Suitable for: State-funded secondary schools
Click here for more information and to book
Click here to take a look at one of our Chemistry at Work days
Register your interest for The Big Bang North West 2015!
Follow MerseySTEM on Twitter here
Follow The Big Bang North West on Twitter here
Like MerseySTEM on Facebook
Our Chemistry @ Work Days are supported by the Royal Society of Chemistry
« Back To News