December 16th 2014
THE BIG BANG NORTH WEST 2015 IS COMING!
We are so excited as it's finally time for our BIG BANG NORTH WEST BIG REVEAL!
The Big Bang North West will take place on the 8th of July 2015 at Aintree Racecourse and we will be filling its amazing spaces with all manner of STEM shows, hands-on workshops, competition work, activities and careers stalls where you can meet inspiring engineers and scientists from across the region.
It's going to be an unbelievable and amazing day as we celebrate Science, Technology, Engineering and Maths… and when we say it's going to be bigger and better than 2014, we're not kidding!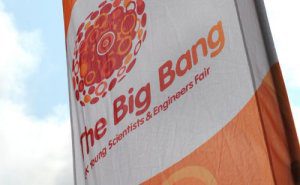 After our success in 2014, demand has been so high that we've raised our capacity!
All school groups will have the opportunity to book a 2.5 hour morning or afternoon slot. This will give up to 6000 children the chance to get stuck in and experience everything The Big Bang North West has to offer hands-on.

And if our launch wasn't enough, we are overjoyed to announce that AstraZeneca (Liverpool) will be our Headline Sponsor for The Big Bang North West 2015.
AstraZeneca were so proud of the amazing things we achieved together in 2014, they want to make 2015's event even BIGGER AND BETTER – just like us!
"AstraZeneca in Liverpool is strengthening its manufacturing capability by innovating and investing in new technologies as well as increasing exports, improving skills and building supply chains. The greatest challenge for us is to have a deep and broad talent pool to draw from. By encouraging local children to see excitement and opportunities in science and engineering, the Big Bang is helping to develop World Class talent on our doorstep."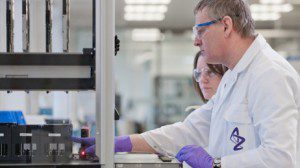 Thanks to AstraZeneca The Big Bang North West is going to be HUGE, be sure to book your school group and discover the amazing STEM exhibits, activities and prizes we have for you! Don't forget… we'll also be hosting The National Science + Engineering Competition Semi-Finals so it's the place to be for all local entrants.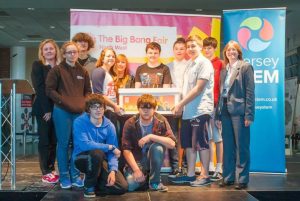 At our 2014 Big Bang Fair all of our attendees bagged a multitude of freebies in their MerseySTEM sponsored 'Big Bang Backpacks'. Everyone had the opportunity to hop in a Viking longboat, race against Usain Bolt, jump on a Zoo Bus, witness a FIRE TORNADO… and so much more!
Our delegates created their own apps and were treated to live science shows, robots, juggling mathematicians, nuclear power, medical demonstrations, forensic science, racing cars, mechanical spiders, even farming and football… you name it, they got to experience it.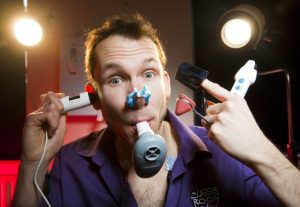 We have so many awesome exhibitors on The Big Bang North West website, but let's start with a couple of big hitters. Classroom Medics and Science 2 U will both be returning to Aintree in 2015! So what do they have in store?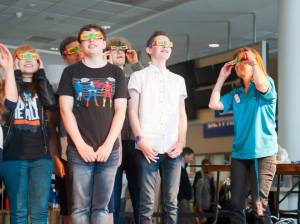 Science 2 U
"I Wasn't Expecting That!"
Science 2 U are back by popular demand and return bigger and better with an amazing show full of booms, bangs and fizzes… and unexpected changes!
Lots of volunteers will be needed to help demonstrate colour changing liquids, take part in some dry ice magic, experience the sensational (yet invisible) spheres and witness a disappearing horseshoe – especially designed for Aintree!
Science for the senses…
Classroom Medics
Come and race the world's greatest athletes on THE ACCELERATOR! Classroom Medics saw so many super-fast students at last year's event we've invited them back to see if anyone can beat the likes of Usain Bolt, Mo Farah and Jess Ennis-Hill.
The Accelerator is a 15m long inflatable tunnel with a series of lights on the floor that illuminate alongside you as you sprint through the tunnel. At the end your sprint times and speeds are displayed on the giant clocks. The time to beat Usain Bolt is 1.84 seconds for 10 metres!
The Big Bang North West is FREE to attend and open & accessible to all age groups, primary & secondary. The event promotes STEM (Science, Technology, Engineering and Maths) via hands on learning, fun and excitement. A truly STEM-sational day for everyone – we don't want any child to miss out!
Click here to take a look at the new website, book your school group places and check out ALL of the exhibitors and activities.
What Teacher's thought of The Big Bang North West…
Relive The Big Bang North West 2014!

Follow MerseySTEM on Twitter here
Follow The Big Bang North West on Twitter here
Like MerseySTEM on Facebook
« Back To News