March 05th 2015
The Lego League! Who wouldn't want to join?
FIRST® LEGO® League is a global science and technology competition for teams of students, to encourage an interest in real world issues and develop key skills that are crucial for their future careers. The students work together to explore a given topic and to plan, program and test an autonomous robot to solve several missions.
FLL is for young people aged 9 to 16 years, working in teams of up to ten students with a supporting mentor. Each year FLL releases a new challenge for the teams. The challenge involves a robot game and a project, and students will need to demonstrate the FLL core values throughout all their work.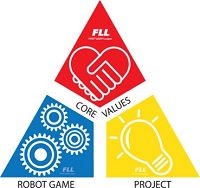 Teams have ten to twelve weeks during the autumn term to complete and test their entry before they compete in their chosen Regional Tournament.
GREAT NEWS! WE CURRENTLY HAVE A STEM AMBASSADOR READY AND WAITING TO SUPPORT A SCHOOL AND GET INVOLVED! EMAIL [email protected] FOR FURTHER INFORMATION.
Click here for everything you need to know about the First Lego League….
Click here for registration information…
THE BIG BANG NORTH WEST 2015 – CLICK TO BOOK YOUR PLACES!
Follow MerseySTEM on Twitter here
Follow The Big Bang North West on Twitter here
Like MerseySTEM on Facebook
« Back To News