April 24th 2015
LAST CHANCE! Funding for Classroom Medics Human Guinea Pig Show!
Friends of MerseySTEM Classroom Medics, have funding to subsidise their awesome Human Guinea Pig Show! Requests for funding must be made before the 1st of May 2015, act now and don't miss out!
The Human Guinea Pig Show is an amazing concept. The Classroom Medics team perform numerous tests on pupils during the show including an ECG, ultrasound scan, retina photography with an iPhone and more! There is also the opportunity to see video footage of Tom, The Human Guinea Pig, having real medical procedures performed in hospital.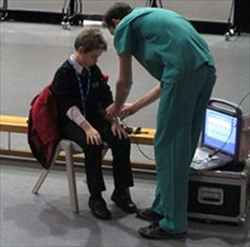 Want the funding so you can get involved? Here's the deal:
– There is no limit on how many schools can access this subsidy.
– Normal cost £895 + VAT (the subsidy slashes that price to £595 + VAT!)
– Dates available are May, June, September and October (subject to arrangement)
– There is no additional paper work for the funding, just a simple feedback form to complete after the show.
To access the funding schools need to confirm their date and make payment by the 1st of May 2015. To book contact Tom Warrender on (01902) 595 089.
THE BIG BANG NORTH WEST 2015 – CLICK TO BOOK YOUR PLACES!
Follow MerseySTEM on Twitter here
Follow The Big Bang North West on Twitter here L
ike MerseySTEM on Facebook
« Back To News