April 01st 2015
The Big Sunflower Project: Get your seeds here and raise awareness!
The Big Sunflower Project is now in its fifth year and the aim is to raise awareness of the rare neuromuscular conditions Centronuclear and Myotubular Myopathy.
How the project works:
Sunflower seeds are free of charge to anyone in the UK and Europe wanting to take part. Sadly they are unable to send seeds outside of Europe but all are welcome to buy their own seeds and take part too – the aim is to have sunflowers growing somewhere in the world all year round.
All the team asks for in return for the seeds are photos of your sunflowers to include in their online photo galleries and newsletter to raise awareness. They want to hear all about how your sunflowers grew and you're welcome to take and send photos throughout the process. What a fantastic idea for a class or STEM Club!
Download the information leaflet for everything you need to know about The Big Sunflower Project, we can't wait to get ours planted here in STEM House!
THE BIG SUNFLOWER PROJECT LEAFLET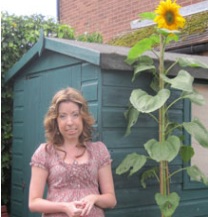 Click here for a message from Toni,
Founder of The Big Sunflower Project
You can also join The Big Sunflower Project's social media circle via the links below:
HAPPY GROWING! Don't forget to tag @MerseySTEM on Twitter with your photos too, we'd love to see them!
THE BIG BANG NORTH WEST 2015 – CLICK TO BOOK YOUR PLACES!
Follow MerseySTEM on Twitter here
Follow The Big Bang North West on Twitter here
Like MerseySTEM on Facebook
« Back To News