May 29th 2015
MerseySTEM Crewe Schools Robotics Challenge – Are you in?
On Monday the 22nd of June 2015, MerseySTEM will be running a Crewe Schools Robotics Challenge at Sir William Stanier Community School, Cheshire.
So far, 5 schools will be battling it out with the hope of taking the title. Teams of 4 Year 9 students will take part in a full day. They'll begin by building their robots with the support of manufacturing employers from the North West and will then be pitted against each other.
No doubt there'll be pulverized processors, ruptured relays, severed struts and mangled motors, it's what MerseySTEM's Robotics Challenge's are all about – Robot Wars to you and me!
The contenders are:
Sir William Stanier
Brine Leas
St Thomas More
Shavington
Sandbach High
Michelle Dow, Managing Director of MerseySTEM said, "I love to see the kids getting stuck in with the robots and watching the dynamics of the teams when leaders start to be decided and some real engineering decisions start to get made. You can almost see the lightbulb moment when they get it!"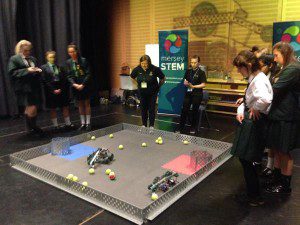 "I love that we don't see their faces for most of the morning as they are heads down, focused on building the best robot on the day. Questions come thick and fast: What do I do with this? How does this work? Can this be my own design? If you ask a youngster what advanced manufacturing or engineering is, usually the answer is 'Er dunno – a mechanic?
The robot days gives us the opportunity to change perceptions, challenge stereotypes, promote teamwork, provide careers advice to students from our city, all by using real role-models from our city. Robot Wars are nothing new, but whatever you say – robots are cool!"
Are you a Crewe school and want to get involved?
…Or would you like to host or sponsor a MerseySTEM Robotics Challenge?
Call 0151 527 3823 for further information.
VEX Robotics are attending The Big Bang North West!
Have you booked your school group yet?
THE BIG BANG NORTH WEST 2015 IS COMING – BOOK NOW!
Follow MerseySTEM on Twitter here
Follow The Big Bang North West on Twitter here
Like MerseySTEM on Facebook
« Back To News