June 25th 2015
MerseySTEM gives back to local community with three FREE Primary School Big Bang Days!
MerseySTEM do amazing things to promote Science, Technology, Engineering & Maths in schools, business, the community & beyond… but this goes above and beyond!
This year MerseySTEM want to give back to their local community so have organised three 'Zoobus Big Bang Days' FREE OF CHARGE for local primary schools. STEM-SATIONAL!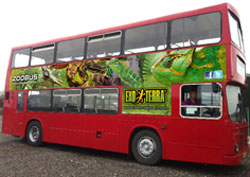 As the team behind The Big Bang North West, MerseySTEM are currently preparing for their 2015 event on the 8th of July at Aintree Racecourse, Liverpool. National Geographic's Dr Mike Leahy exhibited in 2014 and was a huge hit. He was honoured to be chosen to lead MerseySTEM's FREE School Big Bang Days and will also be returning for The Big Bang North West 2015!
Local schools benefiting are:
St Andrew's Maghull CE Primary School
St Thomas CE Primary
Northway Community Primary
Dr Mike worked with the New Zealand production company Natural History New Zealand for eighteen months in order to complete his exciting TV series for National Geographic / Travel Channel TV. It is currently being aired world-wide.
The ZooBus is Dr Mike's crowning glory. Drawing from his experiences in the wildest parts of the world, both as a research scientist and TV presenter, he's combined his passion for conservation and environmental issues and took them on the road.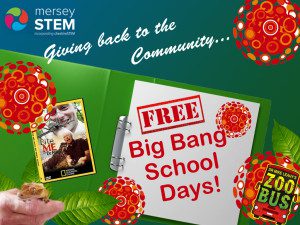 MerseySTEM's Managing Director Michelle Dow said, "The ZooBus is both an educational tool and a place for fun. Downstairs is a collection of fascinating animals (many of which can be handled), while upstairs is an animal handing area and 'mini-micro lab' where images from microscopes can be blown up onto a 46 inch screen!"
"We have 6000 school children from across the region attending The Big Bang North West at Aintree, but MerseySTEM wanted to give back to the local area too. Our HQ at STEM House is based in Maghull, so what better idea than to treat our surrounding primary schools to a Big Bang Day they'll never forget!"
Take a look at Dr Mike's TV moments and his ZooBus below…

Dr Mike and the Zoobus will be at The Big Bang North West!
Is your school coming? You don't want to miss this…
THE BIG BANG NORTH WEST 2015 – CLICK TO BOOK YOUR PLACES!
Follow MerseySTEM on Twitter here
Follow The Big Bang North West on Twitter here
Like MerseySTEM on Facebook
« Back To News