July 17th 2015
MerseySTEM gives back with FREE Zoobus & Science 2 U Primary School Big Bang Days!
MerseySTEM do amazing things to promote Science, Technology, Engineering & Maths in schools, business, the community & beyond… but this goes above and beyond!
This year MerseySTEM wanted to give back to their local community so they organised Big Bang Days FREE OF CHARGE for local primary schools including Zoobus visits and Science 2 U shows.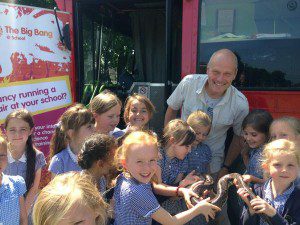 MerseySTEM are the team behind the STEM-sational Big Bang North West, their 2015 event was a huge success with 6000 school children attending Aintree Racecourse on the 8th of July. National Geographic presenter Dr Mike Leahy (Zoobus) and Helen Ross and Sue Halliday (Science 2 U) are two of the fair's main attractions. Both were honoured to be chosen to lead MerseySTEM's FREE School Big Bang Days.
Local schools benefiting:
St Andrew's Maghull CE Primary School
St Thomas CE Primary
Northway Community Primary
Summerhill Primary School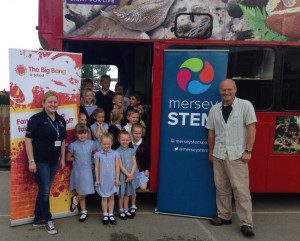 MerseySTEM's Managing Director Michelle Dow said, "The ZooBus is both an educational tool and a place for fun. Dr Mike draws from his experiences in the wildest parts of the world, both as a research scientist and TV presenter. He combines his passion for conservation and environmental issues and takes them on the road. The children love to hear of his adventures and get up close to the creatures he speaks of."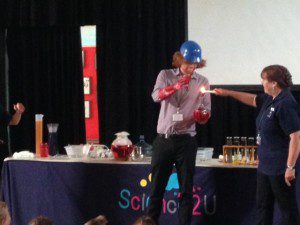 "Science 2 U leave the children in awe every time they perform – they're the ultimate science show! Who doesn't love booms, bangs and fizzes?"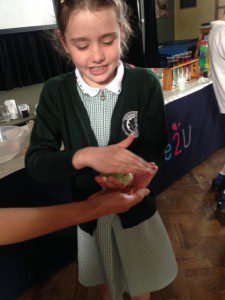 "They have everything from lasers to fire and their dry-ice experiments make us all want to join in – they really are smokin'! Sue and Helen prove hands down that science can be safe, educational and fun!"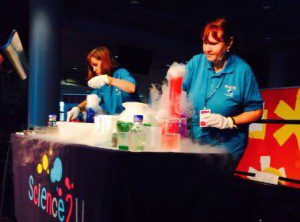 "We had 6000 school children from across the region attending The Big Bang North West, but we wanted to give back to the local area too. MerseySTEM's motto is to 'make it happen' – so we did! Our HQ at STEM House is based in Maghull, what better idea than to treat our surrounding primary schools to a Big Bang Day they'll never forget?!"
The Big Bang North West 2015: A Teacher's View…
Relive The Big Bang North West 2015 in pictures…

Follow MerseySTEM on Twitter here
Follow The Big Bang North West on Twitter here
Like MerseySTEM on Facebook
« Back To News