November 20th 2015
AstraZeneca sponsor MerseySTEM Robotics Challenge Open Heats
On the 18th and 19th of November, MerseySTEM in conjunction with Liverpool City Region Local Enterprise Partnership (LEP) and Vex Robotics hosted their Robotic Challenge Open Heats at The City of Liverpool College.
Places for MerseySTEM's previous challenges were in high demand, so the two day 'special event' sponsored by AstraZeneca gave Merseyside schools a wildcard opportunity to enter the competition.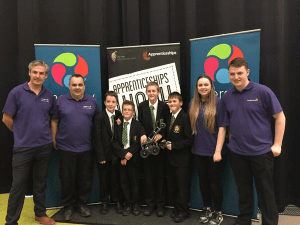 The MerseySTEM Robotics Challenges enable students to understand a variety of design, science and engineering principles and develop leadership and problem solving skills. The events aim to inspire and excite students' interest in robotics & to demonstrate the practical application of mathematics and engineering… they also have a lot of fun!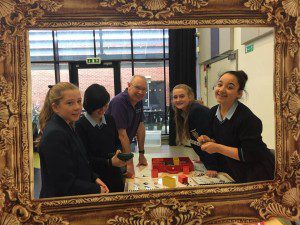 Each challenge sees teams of students from local schools take part in a full-day event, building their robots in the morning and pitting them against each other in the afternoon in a series of matches. The winning team progresses to the Liverpool City Region Grand Final competing against schools from across the Merseyside region. All teams are supported by MerseySTEM, local professionals and STEM Ambassadors to help build their machine.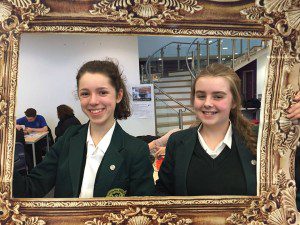 MerseySTEM Managing Director Michelle Dow said, "I love our Robot Challenges, it's great that we don't see our competitors faces for most of the morning as they are heads down, focused on building the best robot on the day. "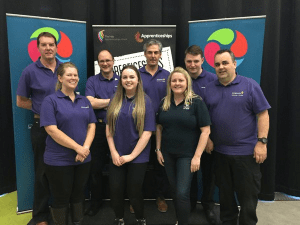 "The robot days gives us the opportunity to change perceptions, challenge stereotypes, promote teamwork and provide careers advice to students using real role-models from our city. Robot Wars are nothing new, but whatever you say – robots are cool!"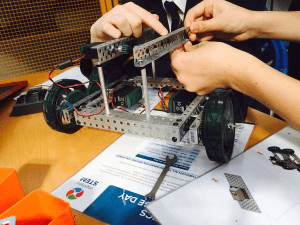 "The open heats have been fantastic, the students were engaged and it's obvious that they've enjoyed the event as much as we have facilitating it. All of our teams worked so hard and we're looking forward to seeing Broughton Hall and The Mosslands School in the Grand Final!"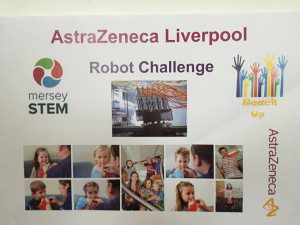 "Our sponsors AstraZeneca sent amazing ambassadors as always and their support is priceless! They provide students with a real-life insight into working in STEM and then join our groups to build the bots. I think we may have to split them into teams one day, set them a Robotics Challenge and let them head to the arena, they love it too – passionate and inspiring!"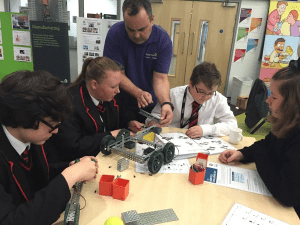 AstraZeneca is a global pharmaceutical company with a major UK presence. Through innovation and collaboration they work to achieve better health for all. In addition to supporting the science and innovation base of the UK, they also make a significant economic contribution in this country.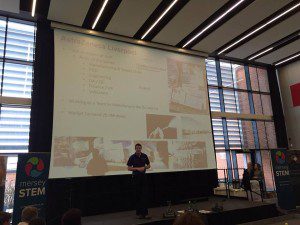 AstraZeneca has a workforce of more than 6,700 employees across seven sites in the UK, and they create value by supporting a broader base of approximately 30,000 jobs.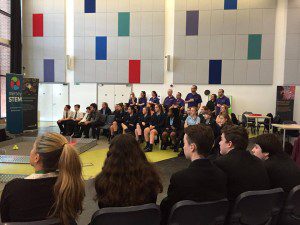 As well as having a large research and development organisation, AstraZeneca have more than 200 active partnerships with academic, research-funding and charitable organisations around the country. They also offer significant educational opportunities for young scientists.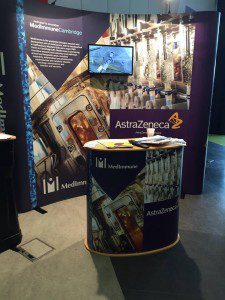 Simon Reid, Sector Manager for Advanced Manufacturing, Liverpool City Region Local Enterprise Partnership (LEP) said: "As the City Region's economy continues to improve, more companies are facing a shortage of skilled workers, especially in Advanced Manufacturing. Now more than ever our future depends on a workforce with the necessary talents and training for the jobs of today and tomorrow, and the best way to ensure a steady supply of workers is through education.  That is why initiatives such as the Robotics Challenge are so important; they provide an opportunity for our young people to really engage with the possibility of working in this sector and hopefully encourage them that Advanced Manufacturing is an exciting and rewarding career."

The winning school from each heat receives a 'VEX Competition Lab Kit' worth over £750, as well as support from VEX Robotics with the opportunity to enter a further competition that culminates in a Grand Final at Big Bang North West 2016!
Winners also go through to the Liverpool City Region Grand Final to compete against the other heat's champions later in the Winter term!
MerseySTEM: "Providing exciting educational experiences for young people"
MerseySTEM Robotics Challenge Open Heats in pictures…
Relive the event on Twitter here…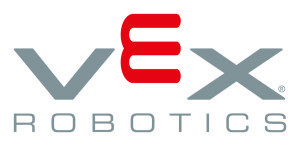 Follow MerseySTEM on Twitter here
Follow The Big Bang North West on Twitter here
Like MerseySTEM on Facebook
« Back To News