March 02nd 2016
National Science + Engineering Competition: Judges Spotlight – Kevin Burke!
The Big Bang North West 2016 is coming and with it, The National Science + Engineering Competition! We would like to introduce you to some of the amazing judges who will be selecting our finalists and award winners.
This week, our spotlight shines on Kevin Burke! Come July 5th, seasoned judge Kevin will be quizzing our competitors on their projects. Take a look at his biography and top tips below! Have you entered yet? Find out more here…
Kevin Burke
Occupation: Head of Division of Innovation & STEM at Preston's College
Background: I served for 16 years as an Engineering Officer in the RAF. On leaving I joined BAE Systems (so I know lots about aircraft and the aerospace industry), but gradually became more interested in people development than engineering development. So I joined STEMNET as Regional Director for the North of England. Having spent 10 years in STEMNET advising teachers and tutors about the benefits of STEM I decided to have a go myself, and since September last year have been leading the STEM departments at Preston's College.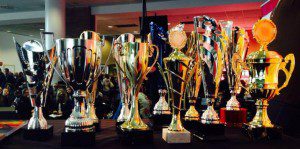 Why have you offered to return as a judge for NSEC at The Big Bang North West 2016? I have been a judge at Big Bang events since the events first started, and every year I have been amazed by the quality, standard and depth of understanding that young people have about their project, and the genuine interest they have in science and engineering.  There is some fantastic new talent out there and I want to be amongst the first to see it!
What's the best part of judging? Listening to enthusiastic, articulate young people describing their projects – it really is very inspiring and uplifting (and also seeing their teachers stood in the background beaming with joy!).
Do you have any advice for the students who are entering this year? You will only have a few minutes with the judges, so practice, practice and practice again your 'pitches', and make sure any 'demo' will work perfectly – so that you really impress them.
Fun fact about yourself: I can play the mandolin (badly), and have double jointed thumbs (these two facts are not related!)
ENTER THE NATIONAL SCIENCE + ENGINEERING COMPETITION HERE!
The closing date for projects to be entered is 6 May 2016
Places are limited, please register your projects and book your place as soon as possible.
THE BIG BANG NORTH WEST 2016!
Booking is now OPEN! You can choose to attend the morning or afternoon session. National Science + Engineering Competition entrants will need to book a morning slot as you will need to attend the whole day.
CLICK TO BOOK YOUR SCHOOL GROUP…
YOU DON'T WANT YOUR SCHOOL TO MISS THIS!
« Back To News