April 19th 2016
The Big Bang North West 2016: Festo's Pneumatic Chocolate Factory
We're overjoyed to be welcoming Festo to The Big Bang North West 2016!
Do you prefer caramel chocolate… or plain?
What if you didn't know what you were getting?
How do machines process and sort your favourite flavours?
At The Big Bang North West you'll be able to visit the Festo stand and channel Mr W – feel free to bring your purple top hat! You'll have the opportunity to build a pneumatic circuit and discover the process that sorts caramel from chocolate, just like a real chocolate factory.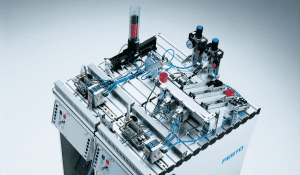 Technically speaking, you'll be Constructing Pneumatic Circuits & Operating Production Systems – STEM-sational stuff!
Festo Didactic has over 40 years of experience in developing solutions for education and training across a broad spectrum of engineering and technology. This expertise and experience puts them in a unique position to support education into the future as the demand for specialist training continues to grow rapidly.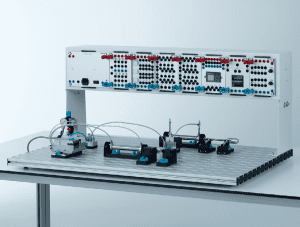 With a comprehensive range of learning systems (hardware and software) and teaching materials covering technology and its application complete with fully furnished and certified learning centers – Festo Didactic have created a world of learning for efficient study and guaranteed learning success.
Their position as a global industrial company at the forefront of industrial automation as well as a supplier of engineering learning systems puts them in a unique position of supplying state of the art and industrially relevant systems for education at various levels.
"We're really looking forward to providing learners at The Big Bang North West with an insight into the world of industrial automation!"
Don't let your school miss out!
Click here to book…
THE BIG BANG NORTH WEST 2016!
Booking is now OPEN! You can choose to attend the morning or afternoon session. National Science + Engineering Competition entrants will need to book a morning slot as you will need to attend the whole day.
CLICK TO BOOK YOUR SCHOOL GROUP…
YOU DON'T WANT YOUR SCHOOL TO MISS THIS!
ENTER THE NATIONAL SCIENCE + ENGINEERING COMPETITION HERE!
The closing date for projects to be entered is 6 May 2016
Places are limited, please register your projects and book your place as soon as possible.
« Back To News