April 19th 2016
The Big Bang North West 2016: United Utilities: What not to flush!
We're excited to be welcoming United Utilities to The Big Bang North West 2016! Are you up to speed on The 3 P's? Their stand is going to be marvellously messy… you'll be surprised what people flush!
What's the strangest thing you've ever flushed down the toilet?
A whole beetroot, a Ninja Turtle, love letters, E-cigarettes and underpants are just a few of the items that toilet-goers have admitted to flushing down the drain.
Other oddities to get the flush include snake poo in Preston, false teeth in Warrington, a bagel in Burnley, knickers in Liverpool and an entire cake in Manchester.
"It might sound funny, but flushing objects down the toilet can lead to some pretty serious consequences. We tackle 25,000 blockages in the North West each year, costing a whopping £10 million! While unusual items don't help, by far the biggest culprits are wipes and food waste."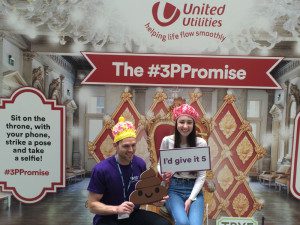 United Utilities are one of the UK's largest water and wastewater companies supplying seven million people in the North West of England with their drinking water. They service around three million homes and 200,000 businesses in the region covering Cumbria, Lancashire, Greater Manchester, Merseyside, and parts of Cheshire and Derbyshire.
At The Big Bang North West, United Utilities will be running an activity throughout the day to bring to life the waste element of their business – 'What not to Flush!' Their Apprentices will also be on hand to introduce you to 'The 3 P's' and there'll be a chance to quiz them at a STEM speed dating activity!
Book your school group now! You don't want to miss this…
THE BIG BANG NORTH WEST 2016!
Booking is now OPEN! You can choose to attend the morning or afternoon session. National Science + Engineering Competition entrants will need to book a morning slot as you will need to attend the whole day.
CLICK TO BOOK YOUR SCHOOL GROUP…
YOU DON'T WANT YOUR SCHOOL TO MISS THIS!
ENTER THE NATIONAL SCIENCE + ENGINEERING COMPETITION HERE!
The closing date for projects to be entered is 6 May 2016
Places are limited, please register your projects and book your place as soon as possible.
« Back To News