July 13th 2016
The Big Bang North West 2016: A Teacher's View – 'Such a fantastic event!'
We have received fantastic feedback about The Big Bang North West but nothing compares to a review from one of our attending schools. It means the world to Team MerseySTEM to hear from students and teachers and it's why we do what we do!
Adele Fozard is a STEM-sational Science Teacher from Deyes High School. Her group thoroughly enjoyed the event and she sent us her photos and this amazing review:
"From the moment I began to plan this event, I knew we were in for a real treat. As this was my first big trip, I had lots of questions and these were easily dealt with by Zoe who kept me updated every step of the way.
On arrival, we booked ourselves in which was easy and manageable and I found it hard to hold the pupils back as they wanted to get inside and explore!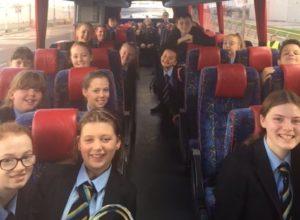 The venue was set up perfectly, with the stage in the middle and screens surrounding, it meant no matter where you were you had a view of the stage. Each stand was full of interesting and enticing gadgets, chemicals and freebies – which my group took complete advantage of! The Unilever photo booth was a huge hit and after speaking to the assistants there – some of the pupils expressed their surprise at the number of products made by this company and they never even knew about it until then!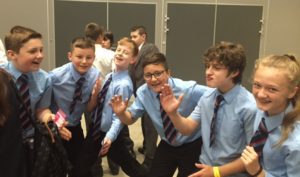 I circulated the room several times and was pleasantly surprised to see my pupils completely involving themselves with everything that was on offer – whether it was learning first aid, trying to beat the fastest man in the world or chatting to the schools that had exhibitions on show. Each pupil walked away having learnt something and with a fresh new view towards STEM. Many of the pupils came up to me on the coach ride home to tell me that they had chosen their University, to hear this, when some are only in Year 7 is outstanding and I hope it encourages them to achieve greatness as they make their way through high school.
Thank you for organising such a fantastic event! We will definitely be seeing you next year!"
Here are a few of student comments from the day:
The best science trip ever!
Would love to come again…
One of the best trips ever!
Amazing day loads of freebies!
Definitely recommend again!
Really fun!!!
It was a blast!
I learnt so much and got so much from it.
Thank you Deyes High School, we can't wait to see you all again!
« Back To News