July 08th 2016
Headline Sponsors AstraZeneca 'Heat Up' The Big Bang North West 2016!
We were overjoyed to have AstraZeneca (Liverpool) return as our Headline Sponsor for The Big Bang North West 2016. AstraZeneca were so proud of the amazing things we achieved together in 2014 & 2015, they wanted to make the event BIGGER AND BETTER, just like us… and they did!
AstraZeneca brought so many amazing things for our Big Bang North West attendees including 'laboratory testing, biotech manufacturing process activities and quality testing'. In Big Bang terms that meant getting hands-on with chemicals, microscopes, thermal imaging cameras and much, much more.
Every child wanted to suit up 'AZ style!' STEM-sational!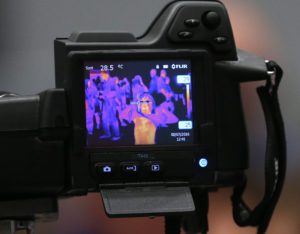 Flir Systems brought along their ingenious thermal imaging cameras including an attachment and app which turned an iPhone into a thermal imager – a big hit!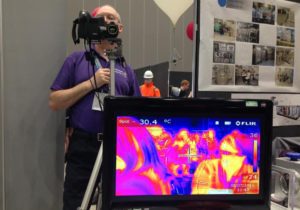 One camera was used to display an image of the crowd, one as a mobile demonstrator to show temperature measurement and two iPhone cameras showcased desk top experiments with heat.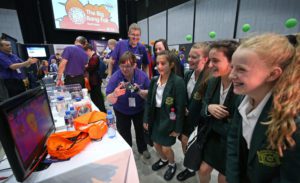 Emerson Process provided an augmented reality system and vibration analysis equipment. Along with analysing vibrations, attendees had the chance to step into their screens as an iPad with specialist software was aimed at a block – virtual reality time!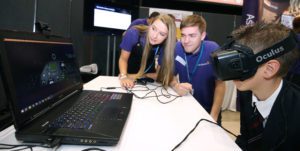 The software translated the block into something else, a heat exchanger for example. By turning the block attendees could see witness the exchanger working and see all sides, as if they were really there!
AstraZeneca also sponsored The Big Bang UK Young Scientists & Engineers Competition along with the Young Scientist of the Year Award.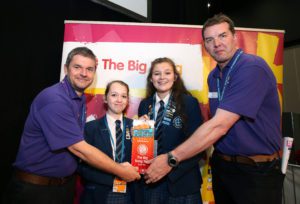 The contest took place at The Big Bang North West and judges were overwhelmed by the incredible, inspiring and innovative projects our entrants brought to the fore.
AstraZeneca is a global pharmaceutical company with a major UK presence. Through innovation and collaboration they work to achieve better health for all. In addition to supporting the science and innovation base of the UK, they also make a significant economic contribution in this country.
Simon Willocks of AstraZeneca Liverpool said: "As headline sponsor for the Big Bang Fair 2016 we were once again greatly impressed by the engagement and enthusiasm of the 6000 students and teachers who attended,  the promotion of STEM subjects with  "hands-on" activities led by our very own Scientist , Engineers, Technical Experts and Apprentices provided a great insight to our industry, work place activities and career opportunities in the hope that  we were able to inspire the next generation whilst supporting employee collaboration and engagement  – making AstraZeneca a Great Place to Work. A fantastic event for all who attended!"
It really was amazing! Thank you AstraZeneca!
It couldn't have been The BIG Bang North West without you.
Official Gallery: Thousands of children inspired at The Big Bang North West 2016!
The Big Bang North West 2016 Gallery: Behind the Scenes
The Big Bang North West 2016 Gallery: BBNW LIVE TWITTER 'TRENDING' NATIONALLY!
Headline Sponsors AstraZeneca 'Heat Up' The Big Bang North West
Big Bang UK Young Scientists & Engineers Competition: Winners & Awards
The Big Bang North West 2016: Booming Online!

The Big Bang North West is sponsored by AstraZeneca
« Back To News