August 17th 2017
Take part in the Apprenticeship Support & Knowledge for Schools Project (ASK)
Did you know that you can achieve a degree through an apprenticeship? 
Did you know the Government has targeted 3 million apprenticeship starts before 2020?
Did you know that there are up to 28000 apprenticeship positions available across England?

If you didn't know the above you are not alone and All About STEM is working in Cheshire, Warrington, Knowsley and Wirral to help make sure that schools, colleges and their students are fully informed about the brilliant opportunities that apprenticeships offer.
In March 2017 All about STEM started to deliver the (ASK) Apprenticeship Support and Knowledge for Schools project (commissioned by the National Apprenticeship Service) which looks to work with teachers, careers advisers, parents and governors, to support schools and ensure that they meet their statutory duties regarding the provision of impartial IAG, specifically in relation to apprenticeships and traineeships.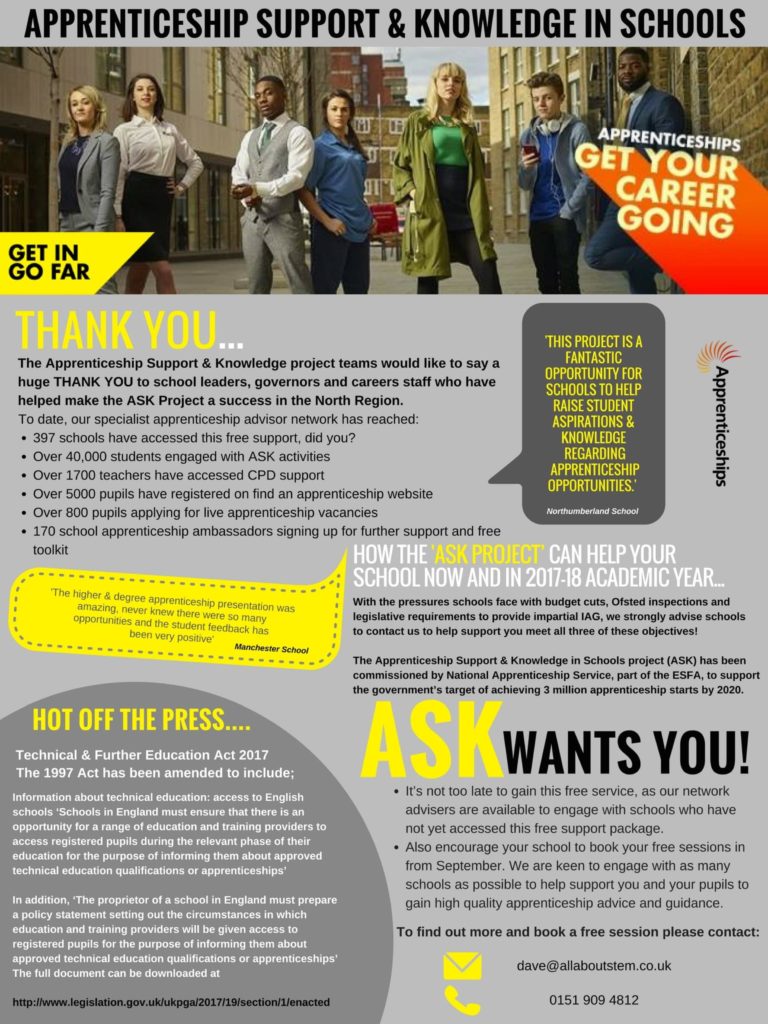 The project works with school and colleges to ensure they are getting the support they need to fully promote apprenticeship by ensuring they are provided with up to date information and guidance about apprenticeships.
All About STEM is supporting schools across Cheshire, Warrington, Knowlsey and Wirral, providing teacher training, pupil assemblies, student sign up support, attendance at careers fairs and parents information evenings.  All about STEM has engaged teachers and pupils from across the region with the ASK project and hundreds of interested pupils have registered on the Find An Apprenticeship website, making an important step in ensuring they have the best information available for them to make informed careers choices.
We are of course always looking forward and already we have lots of events coming up in schools in the 2018/19 academic year but if you are a school based in Cheshire, Warrington, Knowsley or Wirral and you want to know more, why not drop Dave an email and we will be happy to see how the ASK project can support your school or college.
The Big Bang North West 2017: A STEM-sational Success with Schools!
Headline Sponsor: AstraZeneca Inspire All at The Big Bang North West
Official Gallery: The Big Bang North West 2017
Big Bang North West 2017: The Movie!
Go Virtual with The Big Bang North West!
The Big Bang North West 2017: Your Amazing Feedback
The Big Bang UK Competition: Finalists & Award Winners!
Big Bang North West 2017: A Teacher's View

Follow All About STEM on Twitter here
Like All About STEM on Facebook
Follow The Big Bang North West on Twitter here
Like The Big Bang North West on Facebook
« Back To News