July 23rd 2018
Big Bang North West 2018: Celebrating 100 Years with The Royal Air Force!
Our amazing Platinum Sponsor, The Royal Air Force, celebrated STEM & their 100th birthday with 7000 attendees at the Big Bang North West… NOW THAT'S A PARTY!
"We are absolutely delighted to be a part of Big Bang North West in our centenary year #RAF100. The interaction from the kids has been incredible and we can't wait to join you again in 2019 for another amazing event packed with STEM activities and challenges." Michelle Randall, Flight Lieutenant, Royal Air Force.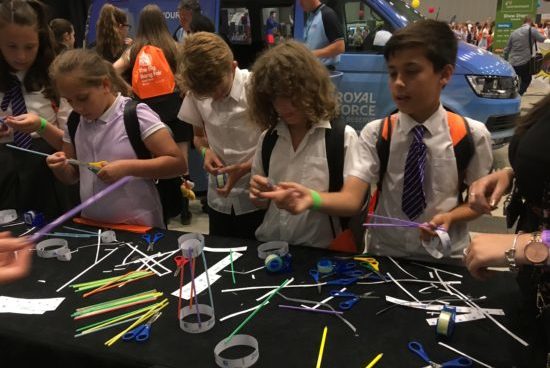 Attendees visiting the Royal Air Force stand could make awesome ring-wing gliders!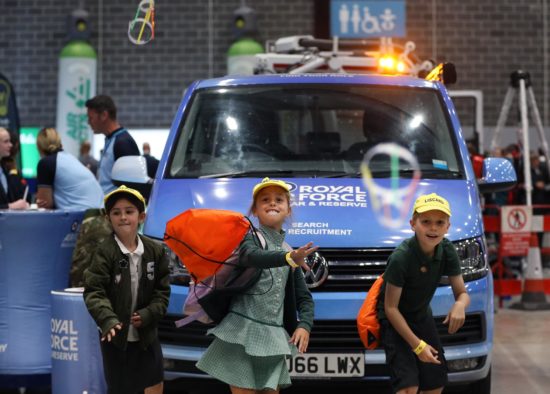 They tested their reactions on the Batak, tried riveting, were inspired by real RAF personnel and took home a HUGE selection of freebies!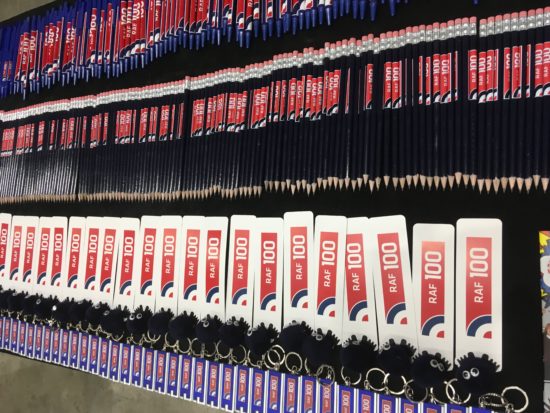 Along with being our Platinum Sponsor, The Royal Air Force generously sponsored the Award for Team Work as part of the Big Bang UK Young Scientists & Engineers Competition at The Big Bang North West 2018.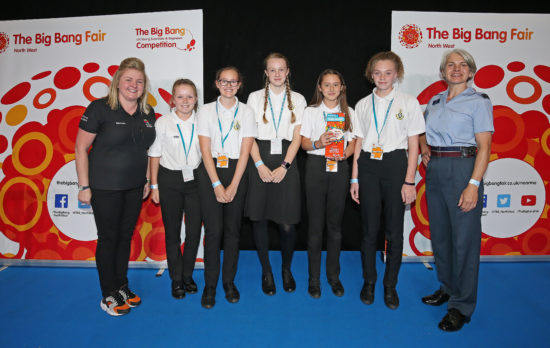 Winner: Millom School – Healthy Crisps for Coronary Heart Disease Sufferers
About this award: The Royal Air Force has a distinctive character and spirit that relies on an essential combination of team work and leadership to deliver air power worldwide regardless of the challenges or the environment. This prize will be awarded to a project that has demonstrated excellent team working skills throughout the project.
We would like to thank The Royal Air Force for their sensational support at this year's event. What a fantastic day!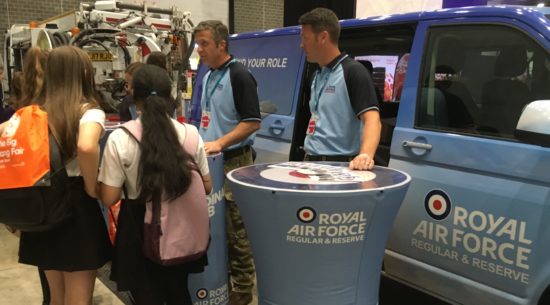 The Royal Air Force & STEM
"We are focused on the development of programmes that aim to improve awareness and understanding of science, technology, engineering and mathematics (STEM) amongst young adults across the whole of the UK. Our intent is to engage fully with the national drive to promote STEM, to provide early careers engagement and to inspire the next generation. In order to do this, we offer a range of different ways for people to get involved,  including:
• Hands on STEM activity days
• Week long residential visits at a number of RAF bases across the UK (which upon completion of you will receive a British Science Association Silver CREST Award and Industrial Cadet Certificate)
• A travelling road show
• A team of dedicated volunteer STEM Ambassadors that are available to deliver presentations
• A close relationship with the Air Cadets and other uniformed organisations, including our new scout badge
The reason for this is that the UK Labour Market is facing major STEM skills recruitment shortages. It is expected that in the year 2020 there will be a shortage of 2.2 million engineers, so it is crucial that we work to eradicate the stigma surrounding careers in this field. Our key message is that regardless of gender, ethnicity, or socio-economic background, there are opportunities for careers in STEM fields if you want it and work hard for it."
Discover more about RAF 100 here…
RAF 100 – Institute of Physics Schools & Youth Groups Competition
RAF 100 – FREE Physics Resources
RAEng 'Aiming for Awesome' – 10 resources covering a different decade of RAF history
RAF 100 Youth/STEM Programme: Uniformed Youth Organisation Residentials
Follow on Twitter @rafyouthengage
Share your photos with #RAF100INSPIRE
The Big Bang North West 2018: 7000 school children celebrate STEM!
Metro Mayor Opens Big Bang Competition Awards Ceremony – Winners Announced!
Big Bang North West & AstraZeneca celebrate 5 years of STEM inspiration for schools!
The Big Bang North West 2018: Your AMAZING Feedback!
The Big Bang North West 2018: Official Gallery
The Big Bang North West 2018: LIVE Twitter Gallery
The Big Bang North West 2018: Big Bang UK Competition Projects
The Big Bang North West 2018: Behind the Scenes
Follow All About STEM on Twitter here
Like All About STEM on Facebook
Follow The Big Bang North West on Twitter here
Like The Big Bang North West on Facebook
Images © All About STEM / Big Bang North West.
Images by Gareth Jones & All About STEM
« Back To News