July 23rd 2018
Big Bang North West 2018: Exciting Experiments & Big Bangs with Air Products!
WOW! Our Platinum Sponsor brought booms, bangs and fizzes to this year's Big Bang North West. Visitors rushed to their show-stopping stand to witness their erupting experiments!
Did you make a BIG BANG with Air Products?
Air Products brought lots of activities to their interactive stand at the Big Bang North West, along with giant inflatable cylinders that reached up to the ceiling – making a HUGE impression.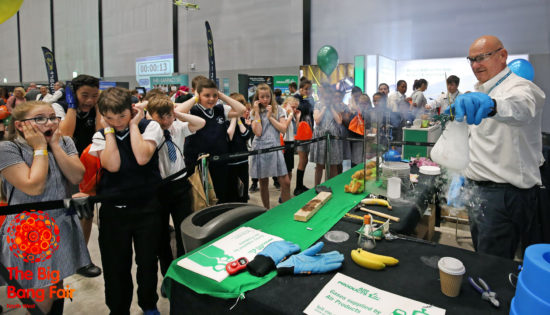 Their stand featured an array of activities including their famous liquid nitrogen demonstrations, where bananas were made into hammers and attendees whacked nails into wood with fruit, shattered solid chrysanthemums and dropped silent with anticipation at balloons about to BANG!' A food quiz all about gas and an opportunity to have a go at some simulated welding all made for a fun way to learn how industrial gases are part of our everyday lives.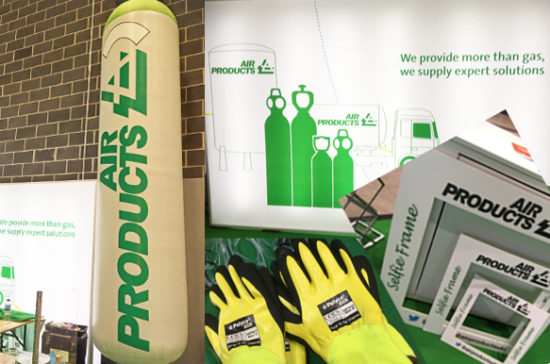 "Air Products is very proud to have been a Platinum Sponsor at the Big Bang Fair North West, it's a great example of where we can help to inspire the next generation of scientists and engineers. Science, technology, engineering and maths are at the heart of Air Products innovative solutions, the event was an amazing opportunity for students to experience many interactive activities and meet with our amazing colleagues who, as positive role models, gave inspiration to many." Lynn Willacy – Air Products, Community/STEM Ambassador UK & Ireland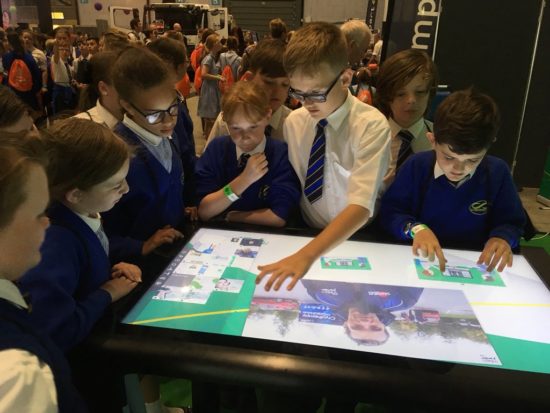 "It was my first visit to The Big Bang North West and I felt privileged to take part in such an amazing event." Jayne Briddon, External Account Manager
"It was a fantastic day, and great to see so many students genuinely interested in what we do and science in general." Rob Walker, Principal Engineer Major & Small Plant Projects
"This is a really impressive event, full of activities and a great opportunity for the students to get involved. Our liquid nitrogen demos definitely put the BANG in the Big Bang North West!" Paul Walton, Project Engineer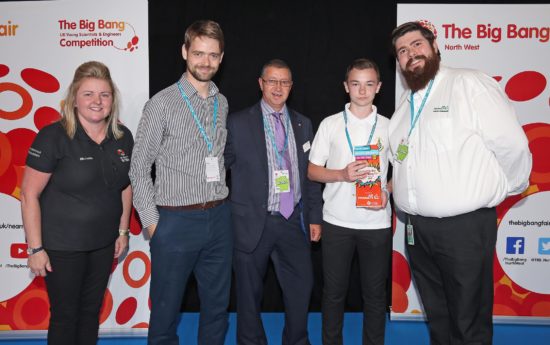 Along with being our Platinum Sponsor, Air Products sponsored the North West Young Engineer of the Year Award as part of the Big Bang UK Young Scientist & Engineers Competition at The Big Bang North West 2018.
Winner: Millom School – Sensory Stick for the Visually Impaired
About this award: Air Products' core purpose is making the world more productive, energy efficient and sustainable. Our products and applications help customers improve energy efficiency and reduce environmental impact. Science, Technology, Engineering and Mathematics are at the heart of our innovative solutions that help us achieve this. We are very proud to be sponsoring the NW Young Engineer of the Year which recognises excellence in engineering.
"I was thrilled to be judging at The Big Bang for the third year. From school presentations to showcasing great projects, the enthusiasm is very infectious, a truly memorable day!" Keith Farrall, Business Development Manager
"It was excellent to see so many young students with enthusiasm for STEM, and an enormous amount of effort was put in by everyone involved. I'll be looking forward to seeing next year's projects." Jack Breslin, Project Engineer
What an amazing day and sensational feedback from our Platinum Sponsor and their team. We would like to thank Air Products for their ongoing support… inspirational!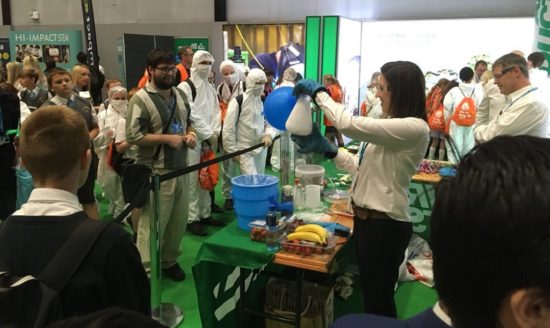 Air Products
Air Products touches the lives of consumers around the globe in positive ways every day. With approximately 15,000 passionate, talented and committed employees and operations in more than 50 countries, they serve customers across a wide range of industries from food and beverage, health and personal care to energy, transportation and semiconductors.
Air Products is a world-leading Industrial Gases company in operation in the UK for over 60 years. Their products are used to help produce many everyday items, from liquid nitrogen for food freezing to helium in balloons and breathing gases for underwater exploration.
The Big Bang North West 2018: 7000 school children celebrate STEM!
Metro Mayor Opens Big Bang Competition Awards Ceremony – Winners Announced!
Big Bang North West & AstraZeneca celebrate 5 years of STEM inspiration for schools!
The Big Bang North West 2018: Your AMAZING Feedback!
The Big Bang North West 2018: Official Gallery
The Big Bang North West 2018: LIVE Twitter Gallery
The Big Bang North West 2018: Big Bang UK Competition Projects
The Big Bang North West 2018: Behind the Scenes
Follow All About STEM on Twitter here
Like All About STEM on Facebook
Follow The Big Bang North West on Twitter here
Like The Big Bang North West on Facebook
Images © All About STEM / Big Bang North West.
Images by Gareth Jones & All About STEM
« Back To News