September 18th 2018
An Inspirational Big Bang @ UTC Warrington
On the 17th of September 2018, the Big Bang North West supported a career focused 'Big Bang @' event, hosted by UTC Warrington and sponsored by Higher Horizons.
Congratulations to Year 12 on a STEMsational Employability Day and thank you to all of the staff. Everyone was excited, enthused, focused and engaged – awesome team work!
Big Bang @ School and 'Big Bang @' events support schools & colleges to deliver sessions that excite pupils about STEM subjects and inspire them to consider science or engineering careers. Interactive & exciting workshops at UTC Warrington were provided by Medical Mavericks, Farm Urban & Mechatronics!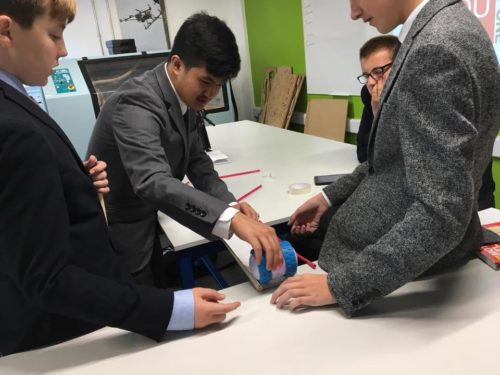 Mechatronics – Robotics & Coding
Students were set a dual challenge, to build a bridge and then code an Ollie robot to navigate accurately across it. They had a limited range of materials to create their structure & then (after Ollie made the crossing) they had to knock over a target.
Not easy… especially when the target was Darth Vader!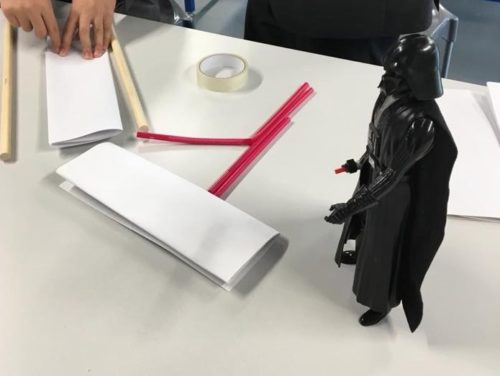 The challenge took great team work & communication skills. It highlighted the inter-disciplinary nature of real world briefs in the tech, engineering & construction sectors and gave students a chance to showcase the resilience & creativity that employers look for… and they didn't need The Force once!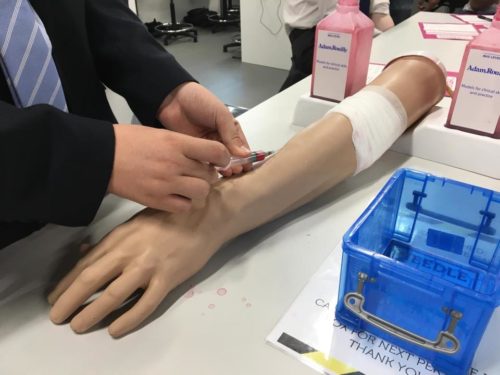 Medical Mavericks – Healthcare Skills & Careers
With Medical Mavericks, students measured blood flow, lung age & capacity, performed ECG tests, scanned retinas with iPhones, took blood from 'Andy the Arm' and even performed keyhole surgery! What a fantastic way to learn about health careers and their functions.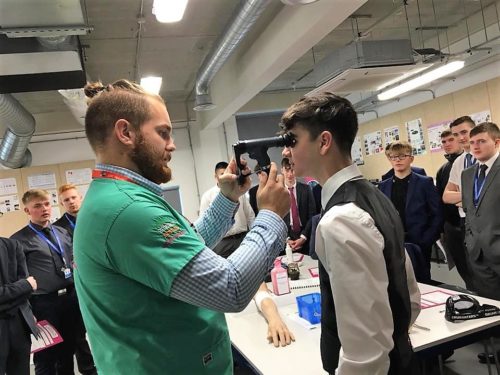 Farm Urban – Aquaponics
Farm Urban introduced aquaponics via experimentation & discovery.
Pupils were given all the components to assemble a Produce Pod but there were no instructions at all… nor did they have any background knowledge of the subject.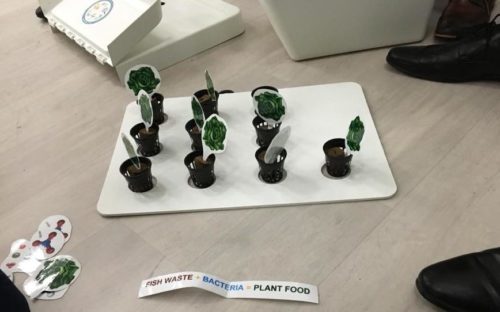 Students became expert, confident & knowledgeable engineers, bio-chemists, science communicators & entrepreneurs all in the space of an hour. So much so that they delivered a 'pitch' to their peers at the end of the session. Presentations included how the system functioned & how it could be used in the future!
"The produce pod is an open source aquaponics system that allows you to grow fresh, healthy food all year round. Aquaponics is a mini-ecosystem inspired by nature: your fish fertilise your plants and your plants purify the water for your fish!"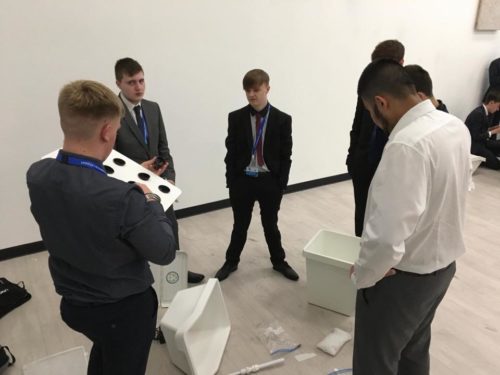 Following the workshop, Farm Urban's Dr Paul Myers, talked about his educational & research journey through school & university to running a social enterprise. "We aim to link leading scientific research with local food production. By taking science fresh from the lab and implementing it at the farm in the heart of urban communities, we aim to change both how we do science and how we farm our food."
Dr Paul's personal aims are "to solve interesting problems, for the benefit of people in ways that are good for the planet".
What will motivate you in your career?
Relive the Big Bang @ UTC Warrington in pictures
Higher Horizons+ is a collaborative network of eleven Universities and Colleges that work together to engage and support schools with free outreach activities as part of the National Collaborative Outreach Programme.
Big Bang @ School
Over the coming year the Big Bang North West will be bringing you a series of free to attend 'Big Bang @' events. These sessions consist of hands-on workshops, science shows & a careers market place, all taking place at a variety of venues across the region.
The Big Bang @ School supports schools to deliver an event to excite pupils about STEM subjects and inspire them to consider science or engineering careers.
A Big Bang @ School Fair can be big or small, you can invite local businesses to take part, involve STEM ambassadors, bring in activity providers or do it all by yourself. The important thing is that pupils have fun finding out where their STEM studies can lead them.
The Big Bang @ School is part of the wider Big Bang programme, led by EngineeringUK in partnership with over 200 organisations.
You can find out more here or if you live in the North West contact [email protected] or call 0151 9094812 to express your interest.
The Big Bang North West 2018: 7000 school children celebrate STEM!
Metro Mayor Opens Big Bang Competition Awards Ceremony – Winners Announced!
Big Bang North West & AstraZeneca celebrate 5 years of STEM inspiration for schools!
The Big Bang North West 2018: Your AMAZING Feedback!
The Big Bang North West 2018: Official Gallery
The Big Bang North West 2018: LIVE Twitter Gallery
The Big Bang North West 2018: Big Bang UK Competition Projects
The Big Bang North West 2018: Behind the Scenes
Follow All About STEM on Twitter here
Like All About STEM on Facebook
Follow The Big Bang North West on Twitter here
Like The Big Bang North West on Facebook
« Back To News