December 04th 2018
GSK STEM Education: FREE Resources!
To support Key Stage 3/third and fourth level science teachers, GSK STEM Education has created a unique set of free educational resources to support learning in classrooms across the UK.
Designed to inspire students and add real-world appeal to lessons, they include curriculum linked independent learning tasks, creative Lab activities and inspirational films, making them easily adaptable to fit in with lesson planning.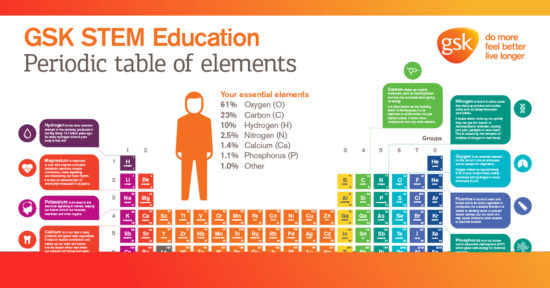 Teachers can access these resources by registering on the GSK STEM Education website. They will also receive a free, periodic table poster, updated with the new elements, for their classroom wall.
The Big Bang North West 2018: 7000 school children celebrate STEM!
Metro Mayor Opens Big Bang Competition Awards Ceremony – Winners Announced!
Big Bang North West & AstraZeneca celebrate 5 years of STEM inspiration for schools!
The Big Bang North West 2018: Your AMAZING Feedback!
The Big Bang North West 2018: Official Gallery
The Big Bang North West 2018: LIVE Twitter Gallery
The Big Bang North West 2018: Big Bang UK Competition Projects
The Big Bang North West 2018: Behind the Scenes
Follow All About STEM on Twitter here
Like All About STEM on Facebook
Follow The Big Bang North West on Twitter here
Like The Big Bang North West on Facebook
« Back To News