August 19th 2019
Skelmersdale pupils inspired by Professor Brian Cox at The Science Summer School
Skelmersdale pupils joined over 400 other students from over 50 schools across the UK to attend the Science Summer School 2019 in London, an innovative event aimed at inspiring the next generation of Britain's scientists and encouraging them to think about a career in the UK's Science, Technology, Engineering, Arts and Maths (STEAM) industries.
Hosted by Professor Brian Cox OBE, the Science Summer School event, which is now in its eighth year, took place at St Paul's Trust School in East London.
Pupils from Lathom High School and Our Lady Queen of Peace Catholic Engineering College attended the event, which was designed to excite and invigorate the younger generation, giving them the opportunity to hear inspirational speakers and engage in seminars and workshops aimed at promoting the fantastic and innovative careers available in STEAM businesses.
Dionne Paxton, school careers adviser at Lathom High School, said: "There were a great mix of inspirational lectures and practical and exciting workshops for pupils to enjoy and give them a real taste of what opportunities are available in STEAM.  One of the key messages that came through was the career opportunities available, particularly in apprenticeships and it gave our students some food for thought."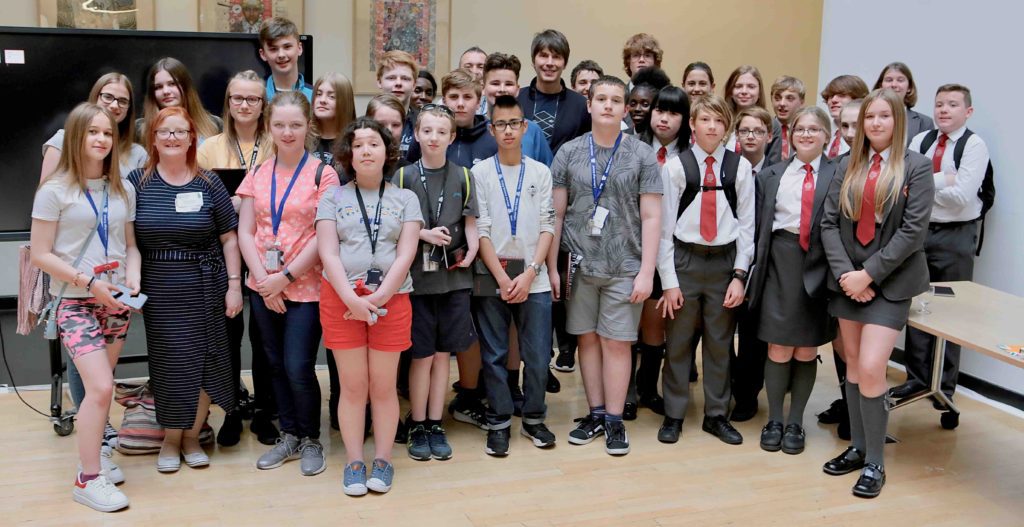 Sponsored by Ibstock, whose Ravenhead factory is located in Skelmersdale, and AXA XL, the event was officially opened by social entrepreneur and joint co-founder of the Science Summer School – Lord Andrew Mawson OBE. Lord Mawson welcomed hundreds of 12 to 16 year olds to the event before introducing Professor Brian Cox to talk about the science behind the theory of relativity and the evolution of the universe.
Other seminars throughout the day included Andrew Smyth, an aerospace engineer and finalist on the Great British Bake Off 2016, who discussed 'When Baking Meets Engineering', along with speeches from mathematician Dr Steven Le Comber and bioengineer Dr Tina Chowdhury. A range of science, engineering and arts focused workshops complemented the speaker presentations exploring innovative themes including a session with photographic artist Helen Marshall, co founder of The People's Moon – a global project aimed at uniting humanity by celebrating the fact that 2019 is the 50th anniversary of the Apollo moon landing.
Ibstock Apprenticeships
Ibstock's Phil Atherton, who also attended the event, has recently completely his apprenticeship at the Ravenhead factory. He said that going down the apprentice route and getting into the construction industry was the best decision he's made in his life.
"After I finished school, like most young people, I was a little lost in what I should do next. I've always been interested in technology and engineering but didn't really know where to start. I'd never really considered an apprenticeship but when I saw the Ibstock role advertised I thought I'd have a go and apply. I haven't looked back since!"
"Five years on, not only have I achieved a foundation degree from Derby University in Clay Technology, supported by Ibstock, but I'm also close to gaining a full degree in the coming months. This is something a few years ago I would never thought I could have done, let alone afford. Not only that, but doing an apprenticeship has given me the opportunity to work within a market leading business and learn about the company from the bottom up. It's such an exciting and diverse company, giving me invaluable experience across multiple divisions and disciplines that I hope will stand me in a great position for the future.
"Today, I am responsible for helping to ensure our factory operations are compliant with ISO standards, that the manufacturing standards for developing first class products are maintained and that the right processes are in place for technical troubleshooting. I've also gained fantastic experience managing people.
"For anyone thinking about a starting an apprenticeship, particularly in such an exciting industry sector, I would seriously consider it. Going to university might be a great life experience, but doing an apprenticeship gives you the opportunity to learn while you earn and start developing your career much sooner."
As the market leading manufacturer of clay and concrete building products with 38 sites across the UK, Ibstock offers a wide range of career pathways, including technical, mechanical and electrical apprenticeships, to roles that enable the construction of homes and spaces that inspire people to work and live better. From production and engineering roles that utilise the latest in manufacturing technology like robotics and automation, to design, specification and marketing roles that help its customers visualise and create smart homes and spaces of the future, there's a host of career opportunities available with Ibstock.
To find out more about all the exciting career opportunities available, visit www.ibstockplc.co.uk.
Big Bang North West 2019: 8000 Children Celebrate STEM!
Big Bang North West 2019: Your Fantastic Feedback!
Big Bang North West 2019: Official Images
Big Bang North West 2019: LIVE Twitter Gallery
Big Bang North West 2019: Big Bang UK Competition Winners!
Big Bang North West 2019: Unilever Inspire Thousands with Sensational & Sustainable Science

Follow All About STEM on Twitter here
Like All About STEM on Facebook
Follow The Big Bang North West on Twitter here
Like The Big Bang North West on Facebook
« Back To News