August 19th 2019
Biology Week 2019: Get Involved!
Now in its eight year, Biology Week will see events take place all over the world that celebrate biology, get more people involved and aware of the subject, and encourages as many people as possible to embrace their enthusiasm for the subject.
Biology Week is run by The Royal Society of Biology and takes place between 5th – 13th October 2019.
Events get more diverse every year and can be held by anyone with enthusiasm for biology; science festivals, Big Biology Days, dino digs, competitions, lectures, fungal forays, music and storytelling – anyone and everyone can get involved.
Find out how you can take part here, there are guides & resources for all!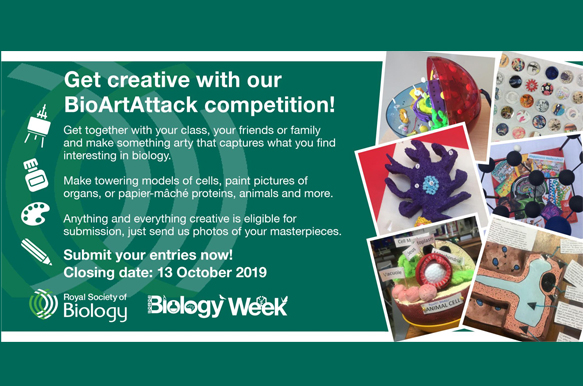 Celebrate Biology Week – Create a #BioArtAttack & WIN prizes!
Yes it's back! The Royal Society of Biology BioArtAttack Competition has returned & applications are now open!
Your entry can be anything from drawings and sculptures to models and collages of any scale. The piece of art created can be entered by an individual or as a group, including classes, lab groups or any group of biology enthusiasts.
This is a fantastic opportunity for a STEAM/STEM session in your STEM Club or school. A perfect way to combine creativity with science!
Biology Week 2019: Primary Guide
Biology Week 2019: Secondary Guide


Big Bang North West 2019: 8000 Children Celebrate STEM!
Big Bang North West 2019: Your Fantastic Feedback!
Big Bang North West 2019: Official Images
Big Bang North West 2019: LIVE Twitter Gallery
Big Bang North West 2019: Big Bang UK Competition Winners!
Big Bang North West 2019: Unilever Inspire Thousands with Sensational & Sustainable Science

Follow All About STEM on Twitter here
Like All About STEM on Facebook
Follow The Big Bang North West on Twitter here
Like The Big Bang North West on Facebook
« Back To News