September 18th 2019
CREST (Primary) – Star Awards Spotlight!
CREST is a STEM enrichment programme for young people that inspires, enables and rewards open ended project work. CREST has a phenomenal library of FREE resources for all ages along with accredited resources from partnering organisations.
Star Awards are typically completed by 5-7 year olds (Key Stage 1), CREST Star challenges relate to children's experiences. You don't need to be a teacher, have a science background or have access to specialist equipment to run Star activities.
A Teacher's Guide is available to download along with a Star Challenges Collection booklet packed with project ideas!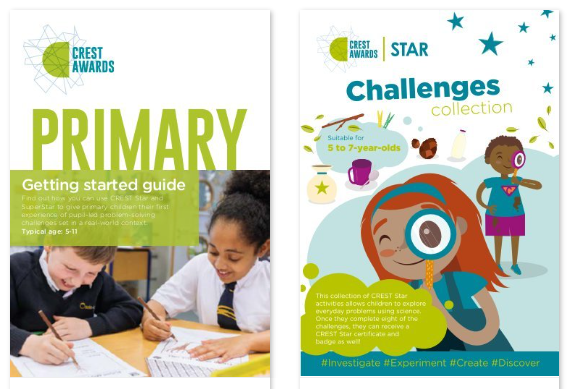 As North West Regional CREST Support Organisation, teachers ask us 'what does each project cover?' So we thought we would spotlight all of the fun Star projects along with the science behind them.
Take a look at our 'at a glance' list…
Animal Adventure – Minibeasts & habitats
Be Seen Be Safe – Reflection & light
Brilliant Bubbles – Liquids, gases & bubbles
Confusing Cans – Weights, ramps & investigation
Discovery Bag – Trees, life support trees give & differences between trees
Muddy Mess – Washing materials
Music Maker – How sounds are made
Peggy Problem – Grip & strength
Plant Detectives – Where plants grow
Rainbow Collectors – Colours in nature
Scrap Yard Scraps – Insulators
Slippery Slidey Shoes – Friction
Sneaky Shadow – Shadows
Sniffly Sneezes – Absorbency of materials
Speed Scooters – Surfaces & friction
Starting Sounds – How sounds can be made
Tea Bag Trouble – Materials
Testing Timers – How sound timers work
Useless Umbrella – Water resistance
You can download the resources & discover more about CREST Star Awards here.
CREST Superstar Awards are also available for 7-11 year olds.

Visit the CREST website
« Back To News