July 29th 2020
LEGO Master designs LEGO's next official set!
We are delighted to announce that the awesome Steve Guinness, friend of All About STEM, has been chosen by LEGO® to have his latest design officially created!
Steve is a certified LEGO® Education trainer and winner of Channel 4's LEGO® Masters 2017. Steve's typewriter creation was chosen by LEGO® Ideas to be an official set after receiving over 10,000 votes.
Congratulations to Steve, we can't wait to get our hands on this kit!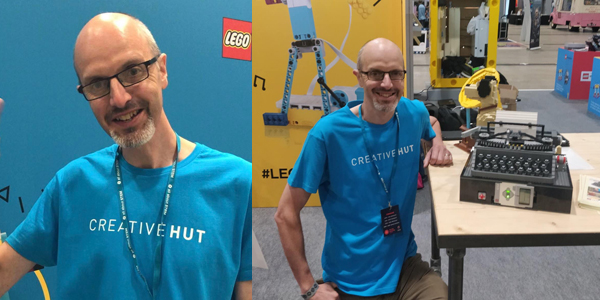 An expansion upon part of his final build for LEGO® Masters, the 1254 piece replica typewriter, which he has dedicated to his wife Rachael, is built to scale and even includes a working hand cranked mechanism. Describing the typewriter as having a 'fun, retro appeal,' the ex-Design and Technology teacher hopes to 'bring nostalgia to adult fans and wonder and curiosity to younger fans who might not have ever seen a typewriter.'
Keen to share his love for learning with LEGO®, Steve also works as a LEGO® Education trainer with CreativeHUT; a Warrington based STEAM Education resource provider facilitating workshops and training for schools and teachers. With Creative Hut, Steve equips teachers with the ability to deliver educational, hands-on STEAM experiences for pupils which harness their creativity and build foundations for future careers in STEAM.
To book Steve for training, workshops and hands on demonstrations, or to discuss taking part in First LEGO League Competitions, contact Creative Hut.
To keep up to date with the work Steve is doing, take a look at his website www.thebrickconsultant.com, or follow Steve on twitter @thebrickconsultant.

Home & School Learning Resources & Activities:
All About STEM's Inspiration Station!
Science•Tech•Engineering•Art•Maths•Mind•Body
Follow All About STEM on Twitter here
Like All About STEM on Facebook
« Back To News