June 21st 2021
CREST Primary: Inclusive Playground Games Project
We love all of the CREST Superstar challenges, but Playground Games has to be one of our favourites!

This activity is aimed at ages 7-11. It can be a fantastic outdoor learning session, it brings children together to brainstorm their ideas and most importantly, it gets learners thinking about disabilities and creating games that are accessible and inclusive.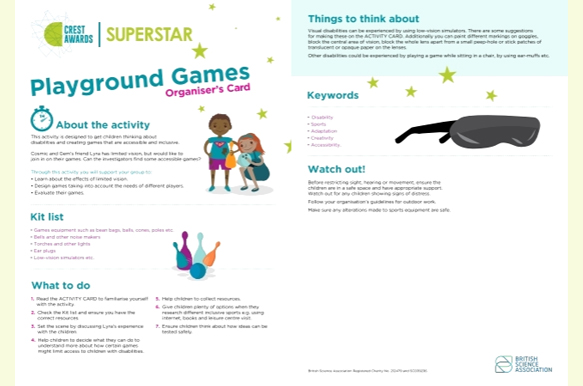 This example focuses on visual impairment but you can extend or adapt the project to consider other disabilities too.
For this session, there is both an Organiser Card & Activity Card. All sessions include a kit list, things to think about, discussion points, keywords and step-by-step instructions.
You can find the Playground Games Challenge on P136 of the CREST Superstar Booklet here.
Your class could be designing and sharing their own games-for-all before you know it!
CREST Superstar
CREST is a STEM enrichment programme for young people that inspires, enables and rewards open ended project work. Superstar Awards are recommended for children aged 7-11 years and relate to broader situations that children are likely to have come across. They are presented as a collection of one-hour challenges.
Children complete 8 x 1hr challenges to receive a CREST Superstar Award.

CREST Primary 'At a Glance'
We created our 'At a Glance' lists so that teachers could view all of the CREST projects and their subjects on one page. Take a look…

At a Glance: CREST Star Projects (5-7)
At a Glance: CREST Superstar Projects (7-11)
CREST: Getting Started (Video)

As North West Regional CREST Support Organisation, All About STEM promote CREST Awards across the region and point schools & clubs to the support they need to run this amazing scheme. CREST Awards encourage students to work like scientists, researchers, engineers and designers to investigate and explore their own project ideas.
Follow All About STEM on Twitter here
Like All About STEM on Facebook
Follow CREST North West on Twitter
Follow CREST Awards on Twitter
« Back To News