September 02nd 2021
Traineeships: Example Journeys & Resources
Amazing Apprenticeships have a fantastic selection of resources, factsheets and webinars all about traineeships.
These free skills development programmes include work placements and give individuals aged 16-24 (or 25 with an Education Health and Care Plan) the skills and experience needed to get them ready for an apprenticeship or a job.
Amazing Apprenticeships are offering a selection of Example Traineeship Journeys from the Department of Education so that you can share how traineeships can positively benefit a diverse range of individuals.
They are a great way to introduce learners to traineeships and spotlight success stories.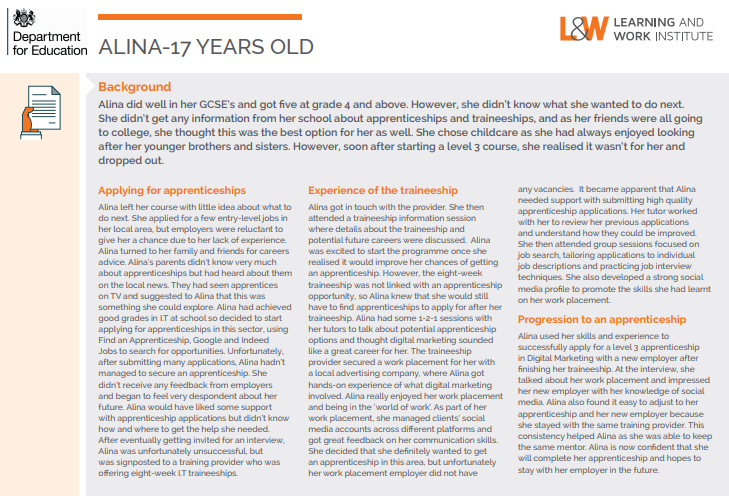 Take a look at the links below too, they're packed with information and inspiration!
School Support: All About STEM & The ASK Project – Apprenticeships support for your school

All About STEM has been delivering the (ASK) Apprenticeship Support and Knowledge for Schools and Colleges project since March 2017. The project is commissioned by the National Apprenticeship Service to ensure that all young people are fully informed about the brilliant opportunities that apprenticeships offer.
Follow All About STEM on Twitter here
Careers: Follow All About Futures on Twitter here
North Region ASK
Amazing Apprenticeships
« Back To News