May 06th 2022
Amazing Apprenticeships: FREE Downloadable Posters
Amazing Apprenticeships offer a huge range of 'free to download' posters for schools & colleges to engage & inform young people on apprenticeship opportunities. Their posters include a STEM bundle, subject-specific posters, engineering and NHS apprenticeships and many more.
You can view the whole collection here.
All of the posters are perfect for display in class, clubs or career zones.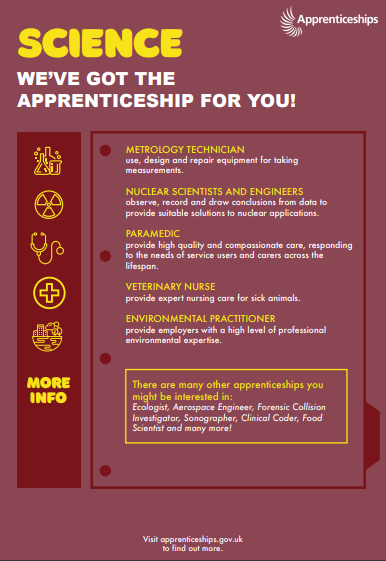 Apprenticeships Parent Packs
Parent & Student: FREE Apprenticeship Apprenticeship Sessions
School Apprenticeship Support (ASK)


All About STEM has been delivering the (ASK) Apprenticeship Support and Knowledge for Schools and Colleges project since March 2017. The project is commissioned by the National Apprenticeship Service to ensure that all young people are fully informed about the brilliant opportunities that apprenticeships offer.
Follow All About STEM on Twitter here
Careers: Follow All About Futures on Twitter here
North Region ASK
Amazing Apprenticeships
« Back To News