July 03rd 2014
Sneak Peek: Deyes High School Big Bang
We are overjoyed that our school-based Big Bang Days are such a hit. Here's a sneak peek at the team working with the young people of Deyes High School.
The Big Bang is all about exploring ideas and discovering how STEM can be used in the real world – via quick hit hands-on excitement! At MerseySTEM our ethos is to 'make it happen' so we tailor all Big Bang Day activities for the school we're working with, they can even be themed.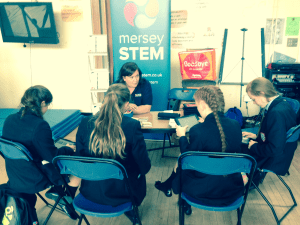 Here Angela discusses STEM careers. As well as having fun, everyone is given the chance to talk about further study and job opportunities in Science, Technology, Engineering and Maths.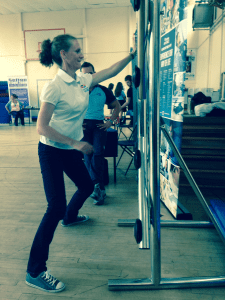 Did we say fun? BOOM! Here's Ali taking on the Royal Air Force Batak Reaction Test!
Deyes High School PE Teacher, Mr Hodgson – 56 in 30 seconds… Ali 52 in 30 seconds… The war was on! Who would be the fastest in your class?
Take a look at our Big Bang Day at Fazakerley High School here
Contact MerseySTEM for more information on our Big Bang School Days
Just 5 days to go until The Big Bang North West, book your school group now – IT'S FREE!
Follow MerseySTEM on Twitter here
Follow The Big Bang North West on Twitter here
Like MerseySTEM on Facebook
Win an iPad or VEX IQ Robot Kit here!
« Back To News