April 29th 2015
Volunteer for The Big Bang North West 2015!
Building on the amazing success of The Big Bang North West 2014, MerseySTEM will be returning to Aintree Racecourse on the 8th of July 2015 with a regional Big Bang like no other… and you can help!
Our reputation is based on delivering exciting, engaging and interactive events and our motto is to 'make it happen!', so this year not only do we have the facility for up to 6000 children but we're widening the age range for this event from Key Stage 2 upwards.
With a wider age range and a larger capacity comes more activities and shows. We have a STEM-sational list of exhibitors, all of which have hands-on experiments and experiences for the young people attending but we need volunteers to help with these shows and activities as well as support the event behind the scenes.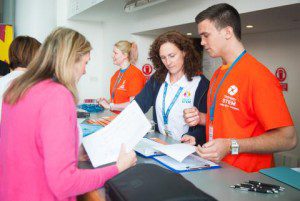 If you would like to get involved on the day by volunteering some time we would love to hear from you!
There are lots of different types of volunteer roles available. We'll need event assistants, guides, workshop assistants and more. We can match up your skills with how much time you would like to give and we guarantee you will be making a difference!
Please email us at [email protected] to find out more about volunteering!
THE BIG BANG NORTH WEST 2015 – CLICK TO BOOK YOUR PLACES!
Follow MerseySTEM on Twitter here
Follow The Big Bang North West on Twitter here
Like MerseySTEM on Facebook
« Back To News