July 21st 2015
The Big Bang North West 2015: Silver Sponsor ScottishPower created a real BUZZ!
A HUGE thank you to our Silver Sponsor Scottish Power. Thanks to their incredible exhibition stand our attendees were literally 'buzzing!'
ScottishPower brought buzz wires, wiring activities, circuit making, a fruit battery assembly line, lemon and potato clocks and some real life PPE for the children to try on. They were accompanied by their apprentice STEM Ambassadors too!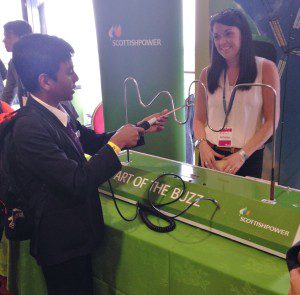 "At ScottishPower we are proud to be a part of The Big Bang North West. We're working to make a world of difference. But we can't do this unless we have the right people, with the right skills, at the right time and at the right place to ensure the security of our electricity supply. So, with energy skills in high demand, we grow our own talent and are delighted to offer exciting opportunities through our trainee programmes.
Our investment in our network and continual search for innovative ways to generate and distribute energy means we can offer a wide range of exciting careers in a stable industry."
What a fantastic day!
MerseySTEM gives back with FREE Zoobus & Science 2 U Primary School Big Bang Days!
The Big Bang North West 2015: A Teacher's View…
Relive The Big Bang North West 2015 in pictures…

Follow MerseySTEM on Twitter here
Follow The Big Bang North West on Twitter here
Like MerseySTEM on Facebook
« Back To News