July 21st 2015
The Big Bang North West 2015: Silver Sponsor Sellafield made it STEM-sational!
A HUGE thank you to our Silver Sponsor Sellafield Ltd! Sellafield returned to The Big Bang North West 2015 and brought with them some amazing exhibits.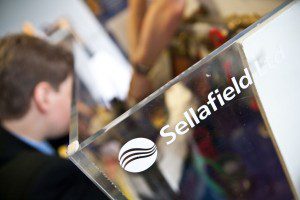 The Sellafield stand aimed to promote STEM to the next generation of engineers, mathematicians and scientists, using their position within the global nuclear industry as a platform to inspire and enthuse.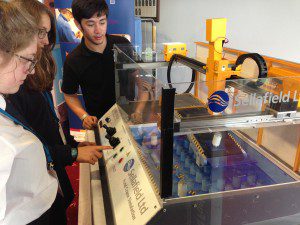 It was without doubt one of the most interactive and popular stands. Our attendees were lining up to try out every gadget and gizmo!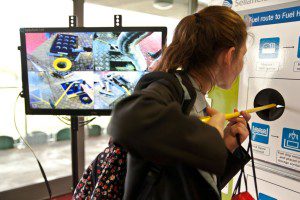 Their exhibits included a variety of activities that demonstrated how the challenges faced on site are being solved with science, technology, engineering and mathematics.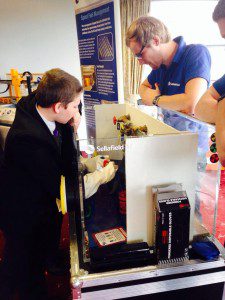 Glove Box Challenge It was not as easy as it looks! Glove boxes are used extensively across the Sellafield site and other nuclear facilities to allow for the safe handling of hazardous material. This activity gave the children the opportunity to experience the difficulties involved with undertaking even the simplest of tasks within a glove box.
Pond Crane Activity When spent fuel is removed from a nuclear reactor core it is extremely hot and so it is cooled in huge storage ponds for a number of years before it is removed for reprocessing. This activity simulated the removal of the spent fuel from the storage ponds at the Sellafield site, using what is known as a pond crane. There was many a squeal and scream "it's going to fall!"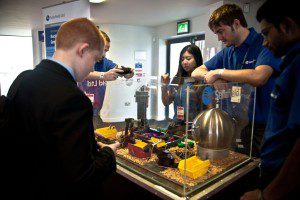 Remote Handler When fuel is removed from a nuclear reactor it contains highly active fission products which emit high levels of radiation, this makes handling such material challenging. In such cases remote manipulators are often used to handle the radioactive material. This activity simulated the use of such manipulators and highlighted some of the difficulties encountered when working with spent nuclear fuel arriving at the Sellafield site.
Sellafield has over 100 STEM Ambassadors, based at their offices in Warrington, who support local schools and events, to encourage more young people to consider science and engineering as a future career. At The Big Bang North West Sellafield also gave our attendees the chance to meet their apprentices and graduates. Their stand offered interaction, innovation, ideas and experience!
MerseySTEM gives back with FREE Zoobus & Science 2 U Primary School Big Bang Days!
The Big Bang North West 2015: A Teacher's View…
Relive The Big Bang North West 2015 in pictures…

Follow MerseySTEM on Twitter here
Follow The Big Bang North West on Twitter here
Like MerseySTEM on Facebook
« Back To News