April 26th 2016
Big Bang North West 2016: Volunteers Wanted!
We need volunteers for The Big Bang North West 2016!
The Big Bang North West is coming and we have a new date and an amazing new venue that is The Exhibition Centre Liverpool. Schools from across the region are looking forward to fire shows, dry ice, gadgets, robots, coding, creatures, science, medical magic and so much more… It's going to be an amazing day! Could you be one of our volunteers and help 'make it happen'?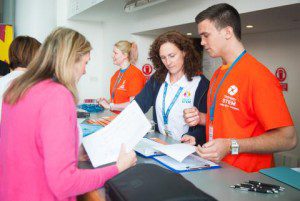 To volunteer you must be available on Tuesday 5th July 2016 to attend The Big Bang North West at the Exhibition Centre Liverpool.
If you would like to get involved on the day by volunteering some time we would love to hear from you!
There are lots of different types of volunteer roles available. We'll need event assistants, guides, workshop assistants and more. We can match up your skills with how much time you would like to give and we guarantee you will be making a difference!
To apply to volunteer, please email our Project Manager Zoë with the following information:
– Name
– Company (if applicable)
– Why you want to volunteer
– Have you ever volunteered before
– Details of STEM background or interests if any (Ambassador/education/work)
Please note that volunteer numbers are based on event size, therefore we may not be able to find roles for all who apply.
Click to submit your information and apply…
ENTER THE NATIONAL SCIENCE + ENGINEERING COMPETITION HERE!
The closing date for projects to be entered is 6 May 2016
Places are limited, please register your projects and book your place as soon as possible. 
THE BIG BANG NORTH WEST 2016!
Booking is now OPEN! You can choose to attend the morning or afternoon session. National Science + Engineering Competition entrants will need to book a morning slot as you will need to attend the whole day.
CLICK TO BOOK YOUR SCHOOL GROUP…
YOU DON'T WANT YOUR SCHOOL TO MISS THIS!
« Back To News