May 09th 2016
STEM Ambassador Success Stories: Roger Daniel – Chartered Engineer
Nothing makes us prouder than fantastic feedback from our STEM Ambassadors and the schools they visit. The STEM Ambassador Programme enables teachers to introduce their students to volunteers from a variety of STEM backgrounds, helping them to get excited about STEM subjects & to understand the links between their school curriculum & possible future career pathways.
We spoke to Roger Daniel, a Chartered Engineer and one of our amazing STEM Ambassadors. His latest presentations have been standing room only!
"On March 17th The Blue Coat Academy held a careers evening on their premises and I volunteered to give a presentation on engineering and the Engineering Council who represent approximately 58 professional engineering institutions. I am myself a Chartered Engineer through the Royal Institute of Naval Architects and the basis of my presentation was the number of disciplines that can be used within Naval Architecture/Marine Engineering projects.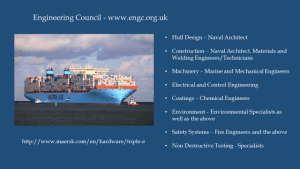 The Blue Coat Academy informed me that they would like me to deliver 4 x 20 minute presentations consecutively. Such was the interest in the first three presentations I overran to 25 minutes, the classroom was full to standing room and happily there were a number of questions during and after the presentation. In one case the parent of a pupil asked me quite seriously whether they could become a professional engineer too!
In my opinion the presentation was well received and generated a lot of interest which as a professional engineer was very encouraging. After the event the teacher responsible for the careers evening thought the lecture was the best attended. It is certainly a presentation that I shall use again for similar events as I tried to show the different disciplines of engineering that can be utilised in a major construction project."
Would you like to become a STEM Ambassador? Find out more…
THE BIG BANG NORTH WEST 2016 IS COMING:
Don't let your school miss out!
Click here to book…
Sponsors & Exhibitors: Play your part in The Big Bang North West!
Follow MerseySTEM on Twitter here
Follow The Big Bang North West on Twitter here
Like MerseySTEM on Facebook
« Back To News