July 19th 2016
Big Bang at School Day: St Thomas More students witness The Dawn of the Space Age!
As the team behind The Big Bang North West, MerseySTEM can facilitate Big Bang Days for schools across the region. Big Bang at School Days bring STEM to life and make it fun!
This month we visited St Thomas More Catholic School along with a mobile planetarium from Immersive Theatres. Students had the opportunity to climb into the digital dome and experience life amongst the stars!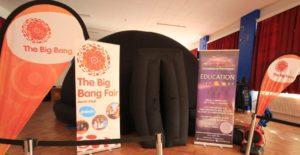 Dawn of the Space Age is a spellbinding account of humanity's first attempts to leave planet Earth: from the launch of the first artificial satellite Sputnik to the magnificent lunar landings. Students are immersed and overwhelmed by an exciting historic account of our species' very first steps into Space.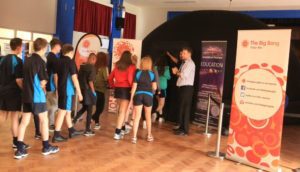 It's an awesome 360 degree experience and it was fantastic to hear the feedback, "WOW! I felt like I was really there!"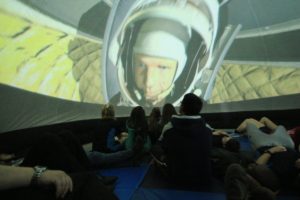 Richard Holden, Curriculum Leader for Science & STEM Coordinator said, "There was a real buzz about having the dome in the hall. Our pupils had a great time learning about space exploration, thank you!"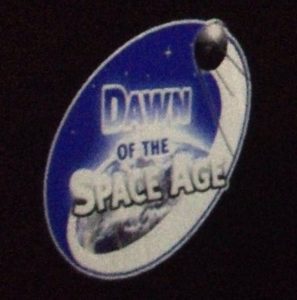 MerseySTEM can tailor Big Bang Days for your school! Educational hands-on STEM fun for your class or year group, get in touch to find out more…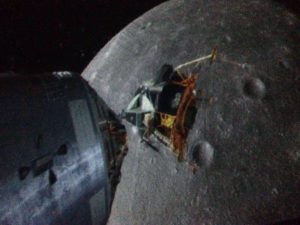 Immersive Theatres have truly amazing shows, you can find examples on their YouTube channel.
Official Gallery: Thousands of children inspired at The Big Bang North West 2016!
The Big Bang North West 2016 Gallery: Behind the Scenes
The Big Bang North West 2016 Gallery: BBNW LIVE TWITTER 'TRENDING' NATIONALLY!
Headline Sponsors AstraZeneca 'Heat Up' The Big Bang North West
Big Bang UK Young Scientists & Engineers Competition: Winners & Awards
The Big Bang North West 2016: Booming Online!
The Big Bang North West 2016: Your Amazing Feedback!
The Big Bang North West 2016: A Teacher's View

« Back To News