September 22nd 2016
STEM Ambassadors support University of Chester Rocket Science Day!
On the 13th July, the University of Chester Faculty of Science and Engineering, in collaboration with Starchaser Industries, offered a group of Year 8 and 9 students the opportunity to be "rocket scientists" for a day. 
Students built and launched flying model rockets powered by real rocket fuel.  They also enjoyed interactive demonstrations, videos and an awesome science show with multiple flashes and bangs!  Starchaser Industries' flight test rocket was even on display.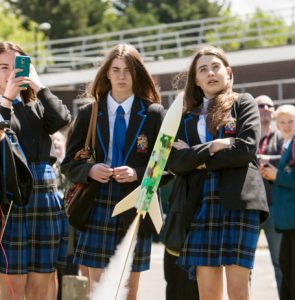 STEM Ambassador, Elaine McFarlane (Shell Fuel Scientist), assisted with the rocket building and also judged the competition for the best decorated rocket.  Elaine commented:
"Inspiring the next generation is so rewarding.  I was amazed and impressed with the quality of the student's work.  It was wonderful to see the students' energy and total commitment to this activity.  This is exactly why I volunteer as a STEM Ambassador."
Official Gallery: Thousands of children inspired at The Big Bang North West 2016!
Big Bang North West 2016: The Movie
The Big Bang North West 2016 Gallery: BBNW LIVE TWITTER 'TRENDING' NATIONALLY!
Headline Sponsors AstraZeneca 'Heat Up' The Big Bang North West
The Big Bang North West 2016: Your Amazing Feedback!
The Big Bang North West 2016: A Teacher's View

Follow All About STEM on Twitter here
Like All About STEM on Facebook
Follow The Big Bang North West on Twitter here
Like The Big Bang North West on Facebook
« Back To News