September 19th 2016
WaterAid: Free Resources!
WaterAid have some STEM-sational learning resources available for home or school. Here's a selection suitable for Primary & Secondary children:
Your pupils could read about WaterAid in the community of Kharelthok, Nepal, but isn't it better for them to live it instead? With WaterAid's virtual reality film everyone can experience their work in amazing 360⁰ detail.
Order your free headset here…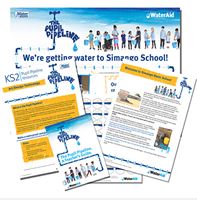 Order WaterAid's fantastic free primary school resources for a day of fun and learning with the Pupil Pipeline challenge. Download curriculum linked lesson plans, case studies and fundraising tips when you sign up today.
Teach your pupils about the importance of water for growing crops by joining WaterAid's Recipe For Life. Why not cook up the simple Ugandan recipes at home or school, then invite parents, pupils and teachers to enjoy them? Click for more…
WaterAid work with local partners and communities to improve access to water and sanitation and promote good hygiene. They campaign and engage decision-makers to bring about a world where everyone everywhere has these essentials by 2030.
Official Gallery: Thousands of children inspired at The Big Bang North West 2016!
Big Bang North West 2016: The Movie
The Big Bang North West 2016 Gallery: BBNW LIVE TWITTER 'TRENDING' NATIONALLY!
Headline Sponsors AstraZeneca 'Heat Up' The Big Bang North West
The Big Bang North West 2016: Your Amazing Feedback!
The Big Bang North West 2016: A Teacher's View

« Back To News