February 16th 2017
Bring your badge to work: A new STEM Ambassadors community initiative!
STEM Learning have launched their first STEM Ambassador network community initiative on social media. The "bring your badge to work" campaign celebrates and inspires volunteers, highlighting their activity and their brand new ambassador badges!
"Starting from today and over the next few months, we are looking for STEM Ambassadors across the UK to get involved, sharing their participation online. The hashtag will be #bringyourbadgetowork so if you want to take part, you can participate by posting photos whilst wearing your badge at work and tweeting @STEMAmbassadors and your local Hub."
If you're an ambassador in our Merseyside or Cheshire Hub you can tag #bringyourbadgetowork @STEMAmbassadors @AllAboutSTEM
Here's some of Team All About STEM with their badges!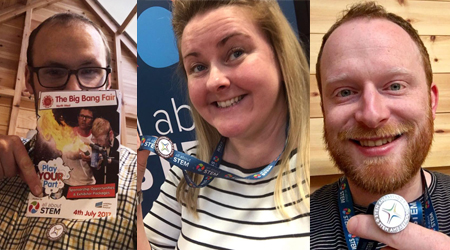 "If you are signed up to the programme, and would like to raise awareness of a STEM-based industry or the work you do, please get in touch and let us know!
If you are yet to receive your badge, you can still participate by sharing your enthusiasm for the STEM industry you work in- we want to hear from the volunteers who shape our network and emphasise the amazing work you do."
Click here to visit STEM Learning's website and find out more…

The Big Bang North West: BOOK NOW for our 2017 event!
Official Gallery: Thousands of children inspired at The Big Bang North West 2016!
The Big Bang North West 2016 Gallery: BBNW LIVE TWITTER 'TRENDING' NATIONALLY!
Headline Sponsors AstraZeneca 'Heat Up' The Big Bang North West
The Big Bang North West 2016: Booming Online!
The Big Bang North West 2016: Your Amazing Feedback!
The Big Bang North West 2016: A Teacher's View
« Back To News