June 09th 2017
Big Bang North West: Atkins Global – Try Augmented Reality on an iPhone!
We are excited to announce that Atkins Global will be returning to The Big Bang North West 2017!
Atkins will be bringing along their VR headsets to build models, they'll have interactive table activities and will be offering our visitors the chance to check out augmented reality using an iPad or phone!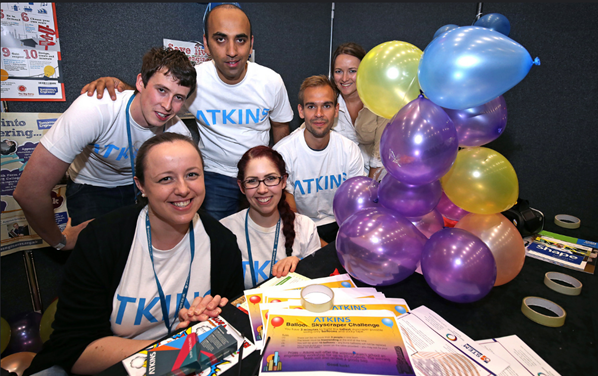 "It's a very exciting time to be working in science, technology, engineering and maths. Not only do we get to make a positive difference to people's everyday lives through our work, whether providing transport, housing or energy, we have an opportunity to shape a different future where new technology is combined with traditional engineering to push the boundaries further than ever. We hope that by discussing details about the fantastic work our people do and the fascinating projects they work on we can ensure students leave Big Bang North West as enthused about STEM as we all are." – Atkins Global.
Atkins is one of the world's most respected design, engineering and project management consultancies, employing some 18,600 people across the UK, North America, Middle East, Asia Pacific and Europe. They build long-term trusted partnerships to move the world forward and enrich lives through the implementation of their ideas.
They advise and support public and private sector clients with the delivery of complex infrastructure projects, building relationships based on understanding and integrity, working collaboratively, and exploiting technology wherever they can.
Their solutions range from upfront strategic advice to large, outcome-focused programme management including policy, strategic choices, feasibility, concept and detailed design, through to project management, implementation and operation.
So, whether it's providing the social and economic infrastructure to enable cities to flourish against the backdrop of rapid urbanisation and ever increasing pressures on resources, or the accelerated connectivity of people and places fuelled by technology and big data, where others see challenges, they see opportunities to transform things for the better.
Team Big Bang North West will be taking part in some VR building too, join us at the Atkins Global stand. We can't wait!

The Big Bang North West 2017
Big Bang North West 2017: Headline Sponsor AstraZeneca!
Official Gallery: Thousands of children inspired at The Big Bang North West 2016!
The Big Bang North West 2016 Gallery: BBNW LIVE TWITTER 'TRENDING' NATIONALLY!
The Big Bang North West 2016: Booming Online!
The Big Bang North West 2016: Your Amazing Feedback!
The Big Bang North West 2016: A Teacher's View
Follow All About STEM on Twitter here
Like All About STEM on Facebook
Follow The Big Bang North West on Twitter here
Like The Big Bang North West on Facebook
« Back To News