November 23rd 2017
Educate Awards 2017: Mosslands School win All About STEM, STEM Project of the Year!
WOW! What a sensational night! All About STEM were proud to be returning sponsor of the STEM Project of the Year Award at the 2017 Educate Awards and absolutely overjoyed to present our amazing accolade to Mosslands School!
Mosslands has an inclusive approach to STEAM (Science, Technology, Engineering, Art & Maths). The school aims to give students a fuller understanding of the impact STEM has on society and our daily lives. Last year, 100% of Year 7, 8 and 11 students attended one or more STEAM events, which included visits and workshops from Tomorrow's Engineers, Daresbury Labs, National Grid and The Manufacturing Institute.
"This award is a fantastic recognition of all the hard work that our staff and students have been doing. We're just delighted that the boys and the staff have done so well. I'd like to thank the sponsors for nominating us." Adrian Whiteley, Headteacher.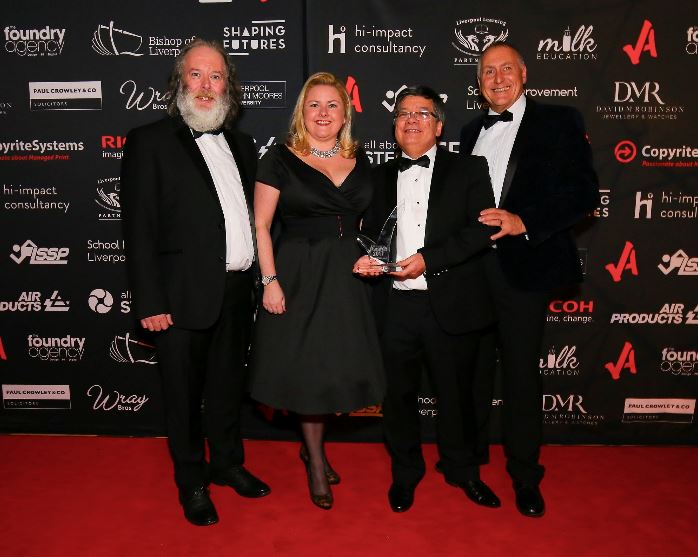 All About STEM Managing Director Michelle Dow presents the award to Mosslands School
Mosslands School: "The energy and excitement of the evening was an experience in itself, however before the night was over Mosslands was to reach the top step. Generously sponsored by All About STEM, Mosslands was thrilled to be awarded the prestigious – STEM Project of the Year Award. We would firstly like to thank Educate Awards for hosting an unforgettable night of anxious waiting, kind words and long red carpet walks from a cathedral full of hard working and dedicated individuals. Mosslands would also like to thank the judges for their recognition and encouraging words about STEAM at Mosslands."
Judges comments: "How impressive! The range of activities that their entry demonstrated was vast – no pupil would leave that school without an understanding of the careers and opportunities that a STEM background can enable."
The District CE Primary School took second place as our STEM Project of the Year runner up. District CE Primary filled their school year with a plethora of STEM-sational ideas to inspire pupils, especially girls, to develop their engagement and interest in possible career aspirations. Activities included Dinosaur Week, British Science Week and links with Farm Urban.
Shortlisted Calday Grange Grammar School has a thriving STEM Club and for the second year in succession the school hosted the Dendrite Race for Line Merseyside heat. The competition sees students design and create a rocket car and then programme it using micro:bit to record the speed of the car. All the participating primary schools had the opportunity to visit Calday and work with in the school's DT workshops to cut and shape the rockets.
HUGE congratulations to Mosslands School and well done to runner-up District CE Primary School and shortlisted Calday Grange Grammar School. The quality of projects was unbelievably high, they were all inspirational! The future of STEM is truly bright, thanks to schools like yours!
Mosslands reaction to winning the All About STEM, STEM Project of the Year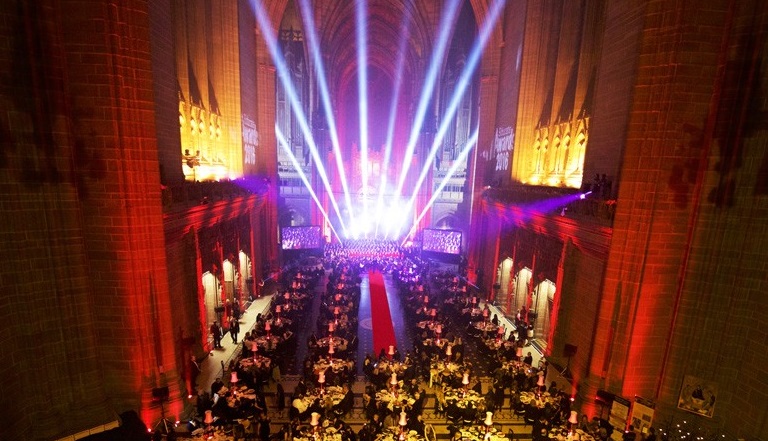 The Educate Awards is an annual awards ceremony celebrating education within the Liverpool City Region, Lancashire and Cheshire. Now in its sixth year, the awards have grown due to the volume of entries and increased demand from schools to take part.
The STEM Project of the Year Award recognises schools that have developed a STEM based project during the academic year of 2016-17 providing an opportunity to develop an innovative and effective approach to encouraging pupils to engage with science, technology, engineering or maths. It can be a project that has a focus on one element of STEM or can be a project that covers all four areas.
The Educate Awards offers 21 accolades ranging from Teacher of the Year to Star Support Staff and SEND Provision, a night for regional schools to come together and celebrate their achievements.
Click here to find out more…
Relive the Educate Awards 2017
The Big Bang North West 2017: A STEM-sational Success with Schools!
Headline Sponsor: AstraZeneca Inspire All at The Big Bang North West
Official Gallery: The Big Bang North West 2017
Big Bang North West 2017: The Movie!
Go Virtual with The Big Bang North West!
The Big Bang North West 2017: Your Amazing Feedback
The Big Bang UK Competition: Finalists & Award Winners!
Big Bang North West 2017: A Teacher's View

Follow All About STEM on Twitter here
Like All About STEM on Facebook
Follow The Big Bang North West on Twitter here
Like The Big Bang North West on Facebook
« Back To News