November 10th 2017
Schools: Work with the Social Mobility Foundation!
The Social Mobility Foundation have programmes in eleven career sectors. "If you are ambitious, motivated and need the networks and knowledge to go further, apply to our free programme now!"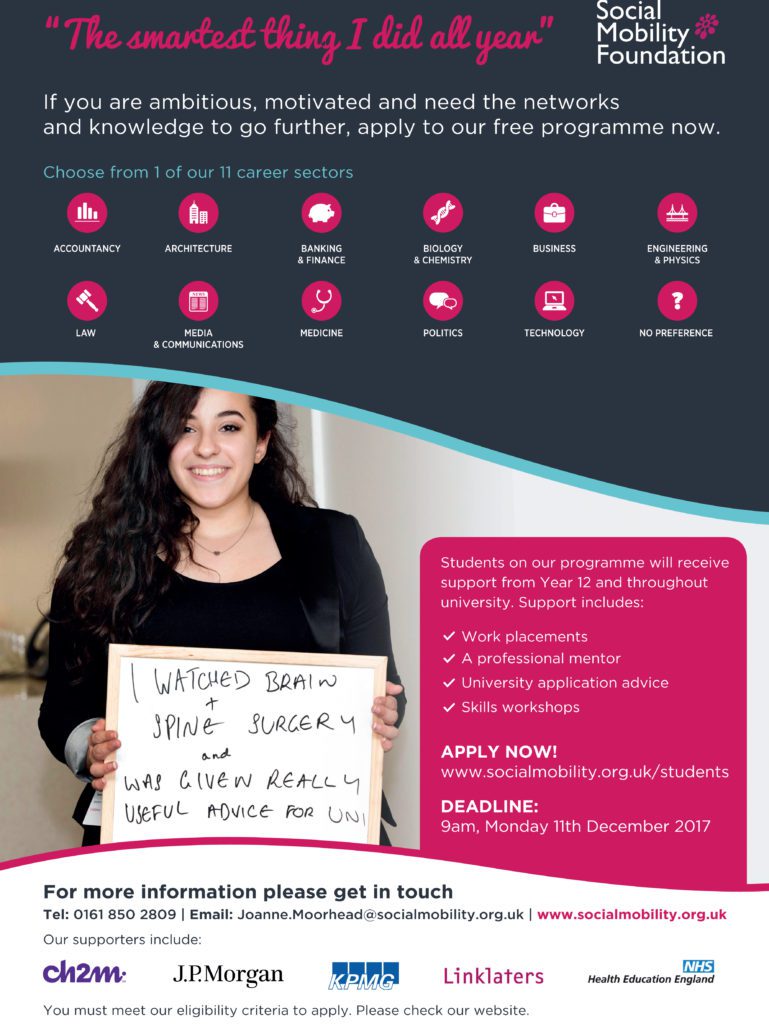 Last year the Social Mobility Foundation worked with over 1,450 Year 12/S5 students from 140 local authorities across the UK, and over the last 7 years 53% of students supported by the SMF have gained places at Russell Group universities.
In order for your school to work with the SMF, all you'll need to do is encourage students to apply, write a reference to accompany their application, and sign or stamp their eligibility form.  The work they do with students takes places during the holidays, or after school, and is completely free of charge.
The deadlines for applications to the SMF 2018 cohort are based on where students live:
Glasgow – 9am, Monday 27th November 2017
London – 9am, Monday 4th December 2017
Birmingham, Leeds, Liverpool, Manchester, Newcastle – 9am, Monday 11th December 2017
Anywhere else in England, Northern Ireland, Scotland and Wales – 9am, Monday 18th December 2017
The Big Bang North West 2017: A STEM-sational Success with Schools!
Headline Sponsor: AstraZeneca Inspire All at The Big Bang North West
Official Gallery: The Big Bang North West 2017
Big Bang North West 2017: The Movie!
Go Virtual with The Big Bang North West!
The Big Bang North West 2017: Your Amazing Feedback
The Big Bang UK Competition: Finalists & Award Winners!
Big Bang North West 2017: A Teacher's View

Follow All About STEM on Twitter here
Like All About STEM on Facebook
Follow The Big Bang North West on Twitter here
Like The Big Bang North West on Facebook
« Back To News