July 30th 2018
All About STEM: A Pilgrimage to the Googleplex for Be One Percent!
All About STEM's Strategy Manager, Laura Pilgrim, visited Google for Be One Percent. Enjoy her experience of a lifetime below! 
Laura's Journey…
It's been a few weeks since I've come back from sunny California, more specifically Mountain View where the sprawling HQ of Google can be found. I was there to do Craftivism with Googlers for Be One Percent….I hear you, I just said three things that need explaining!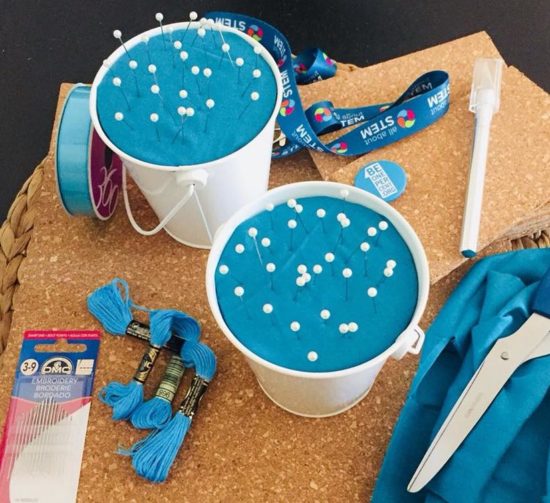 Craftivism is the practice of engaged creativity. By using creative energy to help make the world a better place, craftivists help bring about positive change by capturing peoples attention through hand-made items like knitted protest banners or quilted slogans. This gentle activism is designed to capture peoples' attention rather than scare them off.
Googlers are what employees of Google are called, unless you are new, then you are a Noogler!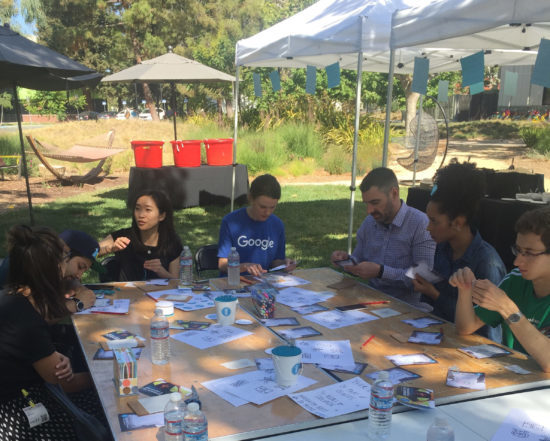 Be One Percent believes in the power of collective giving. That a group of people all giving 1% of their income to the world's poorest can make a huge difference. All About STEM is a 1% Percent Business and I have been involved from its humble beginnings as a founding member. Be One Percent give 100% of their member donations to some of the most effective charity partners in the worlds' poorest countries. 100% of donations are ringfenced for actual projects on the ground so members can be assured that whatever they have given, its going to change a life. In order to support this 100% model there are 1% Businesses that donate into the core fund so the charitable foundation can function.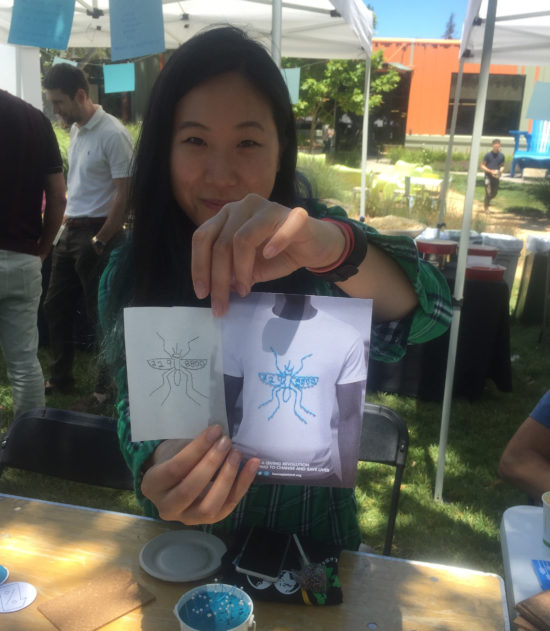 A Googler and Be One Percent member Gloria invited us over to be a part of GoogleServe 2018 and to share with her fellow Googlers so that they could think about what skills they could volunteer to help the charity become more efficient and engaging to increase membership.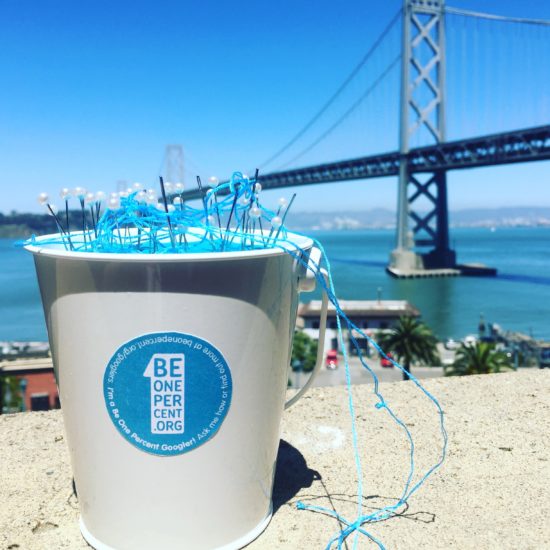 I am a passionate maker (of things, people and mischief!) and I wanted to do something that was quiet and mindful and away from the digital of their day to day. I was consistently informed throughout the week that Steve Jobs loved doing calligraphy! So the Googlers understood the importance of engaging their creatives sides. Capitalising on this, while they were peacefully sewing away I asked them about their jobs, what they did and how could they use their talents to help further the charity. A lovely mindful activity in return for a bit of digital consultancy. It was fun to find out peoples stories and get them to spell out exactly what they did… and then try again because I still didn't understand!
"…I'm sorry, you're a UX Unicorn? Run that by me again?"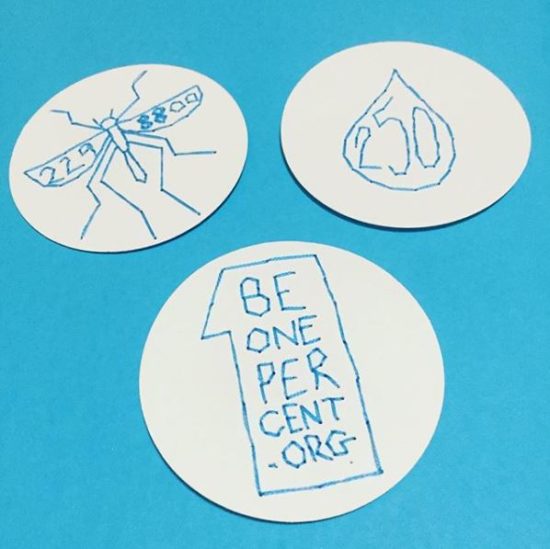 The Googlers worked on stitching postcards that represented some of the achievements by the Be One Percent membership last year. For example 229 members gave enough money in one month to provide 8800 people coverage with malaria nets. The cards are purposefully a bit cryptic so they can place them on the desks of colleagues and they would need to look it up. And that's where the craftivism comes in…if somebody put something on your desk that was clearly handmade, you couldn't just throw it in the bin like any old flyer could you? I'm excited to see how the relationship with Google employees with all their amazing skills develops and how that will help Be One Percent in the future.
My favourite overheard comment was between two Googlers who had never embroidered before.
Googler 1: So how do you know if you want big stitches or small?
Googler 2: I think if you want the picture low-res you do big stitches but if you want hi-res you do small.
May your embroidery always be hi-res!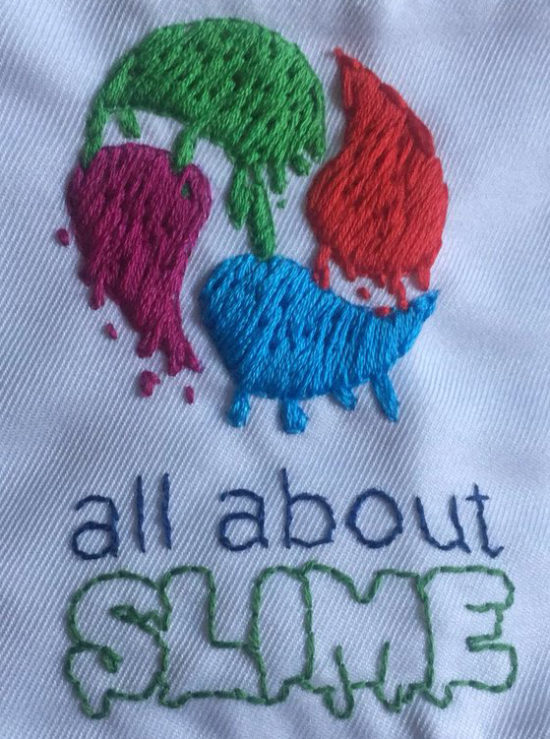 It was amazing to be on the Google campus and visit the San Francisco offices; free coffee, beautiful bikes, free coffee, hammocks to work in… did I mention the free coffee*? It was exciting to see the offices and the meeting rooms were named after cartoons, and the massage areas and sleep pods, but I'm afraid I couldn't take any pictures of that!! Tip top secret. So here is me on a bike…trying to take a selfie!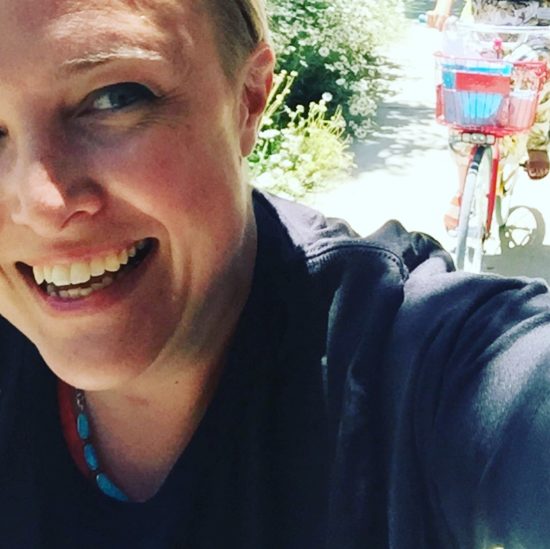 Just to remind me that I can never quite get away from the powerful reach of The Big Bang North West, every day when I checked in at the Google campus, I used BBNW Award Sponsor, Evoke Creative's Google Visitor Check-In System!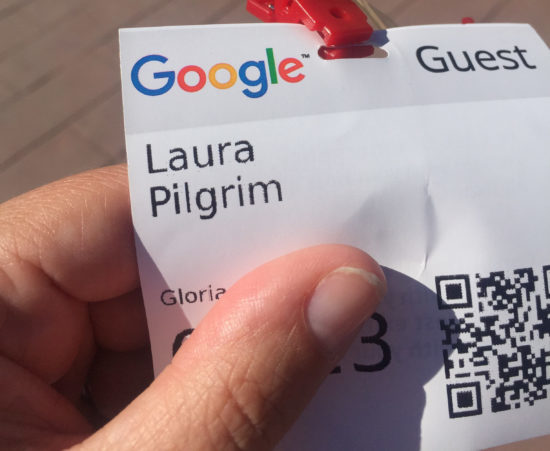 I'm sorry I didn't get the chance to tell Dean Ward at Big Bang North West Awards Ceremony that I'm treasuring my little visitor passes as a memento of my trip… and that I hope its not the last time I use one!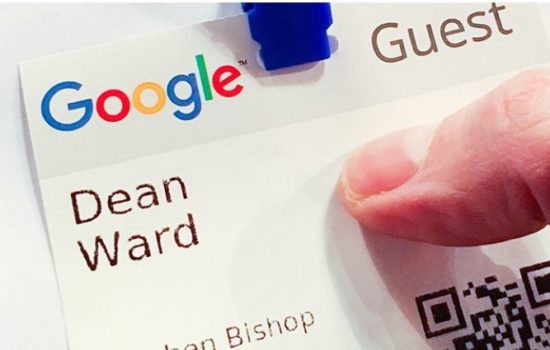 *Michelle (the boss) would like it be known that she buys me coffee all the time
For more information about www.beonepercent.org
To see more crafty nonsense www.instagram.com/pilgrim.laura/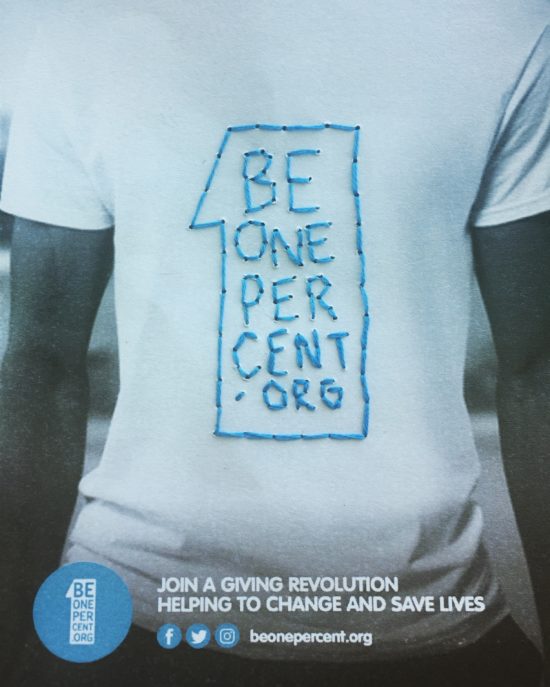 The Big Bang North West 2018: 7000 school children celebrate STEM!
Metro Mayor Opens Big Bang Competition Awards Ceremony – Winners Announced!
Big Bang North West & AstraZeneca celebrate 5 years of STEM inspiration for schools!
The Big Bang North West 2018: Your AMAZING Feedback!
The Big Bang North West 2018: Official Gallery
The Big Bang North West 2018: LIVE Twitter Gallery
The Big Bang North West 2018: Big Bang UK Competition Projects
The Big Bang North West 2018: Behind the Scenes
Follow All About STEM on Twitter here
Like All About STEM on Facebook
Follow The Big Bang North West on Twitter here
Like The Big Bang North West on Facebook
« Back To News