February 19th 2020
2-7 March: National Careers Week 2020
National Careers Week (NCWCIC) is a celebration of careers guidance and free resources in education across the UK. The aim is to provide a focus for careers guidance activity to help support children learning about careers & young people leaving education.

National Careers Week takes place between the 2nd – 7th of March and is the perfect platform to advise and inspire the next generation as they think about careers or enter the world of work. The week encourages education providers to bring together students, local employers and advisers through careers events and activities.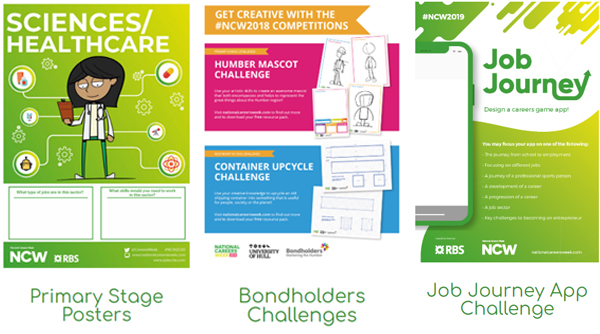 Your school, academy or college can offer careers advice and guidance to students with support from NCW via their free resources, information on current career opportunities and advice on activities.
NCW have a phenomenal resource library. packed with ideas, puzzles, competitions, posters, exercises & projects (KS2+). They also offer a comprehensive & interactive NCW guide – you can click a link on any page and jump to what you need!
Careers & Enterprise Company: Gatsby Benchmark Toolkits
Gatsby Benchmark 4: Born to Engineer Classroom Packs

FULLY BOOKED: The Big Bang North West 2020!
Big Bang North West 2020: Headline Sponsor – Unilever
Enter the Big Bang UK Young Scientists & Engineers Competition!
Look back: Big Bang North West 2019 – 8000 Children Celebrate STEM!
Look back: Big Bang North West 2019 – Your Fantastic Feedback
Look back: Big Bang North West 2019 – The Movie
Follow All About STEM on Twitter here
Like All About STEM on Facebook
Follow The Big Bang North West on Twitter here
Like The Big Bang North West on Facebook
« Back To News