March 13th 2020
STEM Ambassador Spotlight: Paula Manley!
It's not just Team All About STEM who 'make it happen'. Our sensational STEM ambassadors visit schools and events for FREE to support learning, teach workshops and pass on their amazing insight and experiences.
Meet Paula Manley! Paula is a dedicated STEM ambassador and an excellent role model. She has a real passion for outreach, enrichment and inspiring the next generation of experts!
Name: Paula Manley
Location: Cheshire
Job Title: Content Development Resource Manager
Company Name: Waters Corporation
Fun Fact:
I like to run in my spare time for my local running club, Vale Royal AC. I find parallels with my involvement in STEM; both require lots of energy and they help me to keep a positive attitude to things.
What do you do day-to-day?
I manage technical writers in the UK and also Romania. Their role is to write the instructions for the scientific equipment and software and Waters produces. I came to Waters with a science background, and wrote myself for a few years before becoming a manager. This year I also took on responsibility for helping to drive STEM outreach at our Wilmslow site at Waters; that involves training new STEM ambassadors, partnering with other people and helping to arrange STEM events and workshops
What are the best & worst parts of your role?
The best part is being able to develop people's talents in my role as manager. With my STEM involvement, it is seeing the impact we are having with encouraging people to try STEM. It is hard to think of the worst parts, probably just not being able to do even more.
How do you dress for your role?
My role is office-based, so there are no special requirements to wear certain items, except to be smart casual if we have visitors. For some STEM activities, there can be safety requirements, and we also have Waters branded STEM t-shirts that we wear.
What subjects did you study at school & what qualifications do you need for your role?
Following my GCSEs I studies Mathematics, Physics and Geography at A level, and then went on to do BSc (Hons) in Environmental Science. For my role, I also had previous laboratory experience using mass spectrometers for testing samples from clinical trials, and that was essential for me to understand how customers need to use the scientific equipment we produce at Waters. For the STEM outreach, a basic understanding of science is important, but also having the people skills to be able to go out to schools and events and deliver the STEM message.
What was your favourite subject in school?
I loved science the most (obviously!), but I also loved art. I think it is good to balance the analytical side with a more creative element. In fact, having a creative flair is becoming more important in many roles.
What do you see yourself achieving professionally within the next 10 years?
I am nearly 20 years into my career now, and am happy with where I am managing people in two different countries. For the STEM side, I would like to continue to develop and adapt to the changing needs for encouraging people to study STEM subjects. I hope to see the long-term results of the initiatives.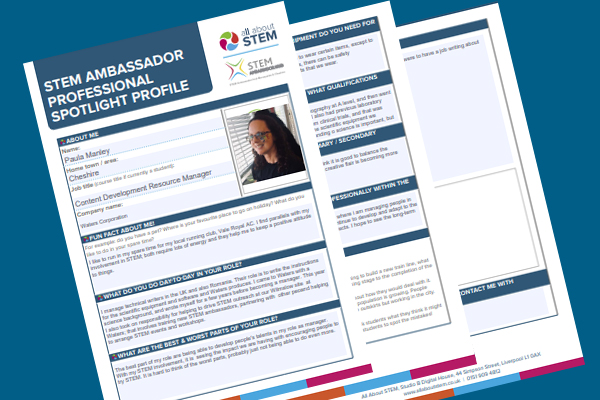 Classroom Inspiration! STEM Ambassador Spotlights:
If you're a teacher, or community group leader, you can download our current STEM Ambassador Spotlights and use them to support your activities with young people.
Could you be our next STEM Ambassador in the spotlight?
Get in touch!
You can find out more about becoming a STEM Ambassador or request an ambassador for your school here. Make a difference and help inspire the thinkers of the future…
All About STEM works on lots of exciting STEM projects. As part of the STEM Learning family, we're responsible for the regional STEM Ambassador Hub, managing the STEM Ambassador Programme in the Merseyside, Cheshire and Warrington areas.

FULLY BOOKED: The Big Bang North West 2020!
Big Bang North West 2020: Headline Sponsor – Unilever
Enter the Big Bang UK Young Scientists & Engineers Competition!

Look back: Big Bang North West 2019 – 8000 Children Celebrate STEM!
Look back: Big Bang North West 2019 – Your Fantastic Feedback
Look back: Big Bang North West 2019 – The Movie
Follow All About STEM on Twitter here
Like All About STEM on Facebook
Follow The Big Bang North West on Twitter here
Like The Big Bang North West on Facebook
« Back To News