December 09th 2020
NEW! Shaping Futures – 6 Week STEM Club Resources
Who said a STEM Club has to run every week?
Who said the same students have to attend each session? No-one! That's why we came up with our Six Week STEM Club Programme, which is exactly what it says on the tin! It's a programme that you can repeat every half-term with a different set of students.
With this in mind, we're excited to launch our brilliant brand-new 6 Week STEM Club Resources from Shaping Futures!

All About STEM have partnered with Shaping Futures for many years collaborating on outreach, events and activities.
Shaping Futures is part of the Uni Connect Programme and provides all secondary schools and colleges across the Liverpool City Region with comprehensive, impartial information, advice and support. As an organisation truly dedicated to education, they have collaborated with us to bring you a STEMsational selection of activities.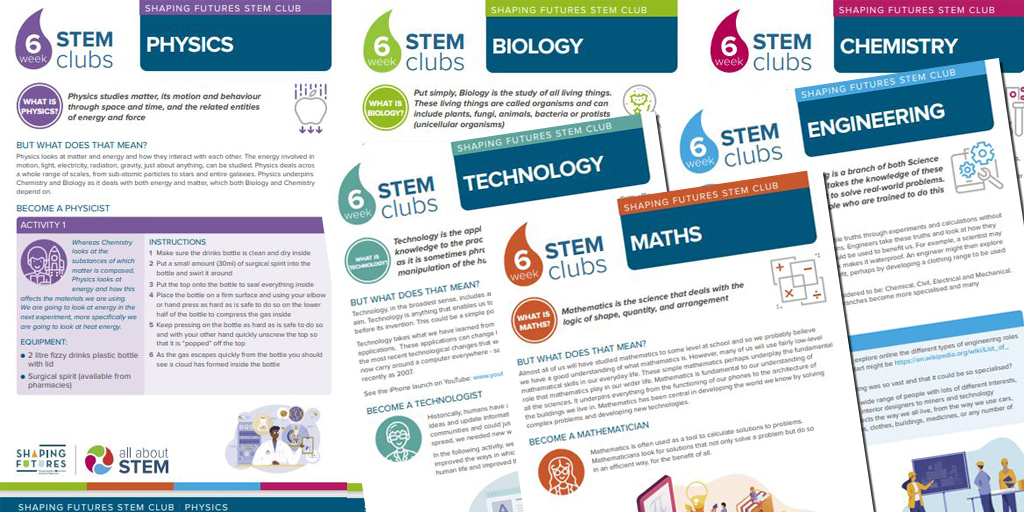 Resources Include:

Biology
Become a biologist for the day! Discover the 9 major fields of biology, try researching like an outdoor ecologist and complete your own autecology experiment by creating rainbow celery!
Chemistry
Chemical reactions! Grab your equipment and capture carbon dioxide, you'll need it to extinguish a flame in Experiment 2!
Technology
Tech-time! Investigate whether technology has improved the ways in which we communicate and assess how it has both helped human life and improved the human environment. Old code & new… have a go!
Engineering
Discover how engineering affects how we all live and the amazing and specialised careers involved, then become an engineer by making the strongest structure!
Maths
You're hosting the party of the year and need maths to solve a problem… can you get everyone to the right place at the right time?
Physics
Want to control the weather? Try making your own cloud in a bottle!
Find out more about Shaping Futures
More 6 Week STEM Club Resources
Want to start an online STEM club? Get in touch!
All About STEM: Your local STEM Club Champions
Tailored STEM Ambassador Remote School Sessions
STEM Clubs: CREST Projects for Ages 5-19

All About STEM works on lots of exciting STEM projects. As part of the STEM Learning family, we manage the STEM Ambassador Hub in Merseyside, Cheshire and Warrington, working closely with the regional Science Learning Partnerships in Merseyside and Warrington and Cheshire and Stockport. Follow STEM Ambassador Hub Merseyside & Cheshire on Twitter .
Follow All About STEM on Twitter here
Like All About STEM on Facebook
« Back To News