May 27th 2021
FREE 6 Week STEM Club Resources!
Here at All About STEM, we speak to lots of teachers who'd love to run a STEM Club but find that, on top of everything else that's expected of them, it just doesn't happen. So we got to thinking…

Who said a STEM Club has to run every week?
Who said the same students have to attend each session? No-one!
That's when we came up with the idea of our Six Week STEM Club Programme, which is exactly what it says on the tin!
It's a programme that you can repeat every half-term with a different set of students each time. This drastically reduces your planning & resourcing but it also means that you're able to engage & excite a much wider range of students, any difficulties with student retention are solved & you have the opportunity to celebrate what your club has done regularly throughout the year.
Interested in finding out more?
Take a look below and download all of the FREE resources here!
6 Week STEM Club: Chemistry for all (LJMU Absolute Chemistry)
We have Six Week STEM Club projects from Chemistry for all courtesy of Liverpool John Moores University in conjunction with The Royal Society of Chemistry. Fantastic activities and you can tweet or email your findings directly to them!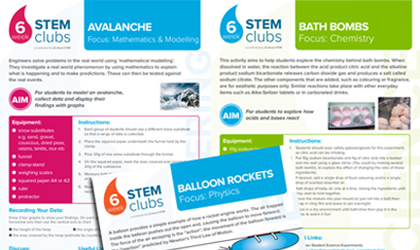 Shaping Futures – 6 Week STEM Club Resources
Shaping Futures is part of the Uni Connect Programme and they have collaborated with us to bring you a STEMsational selection of 6 week STEM club activities.
Make rainbow celery, a cloud in a bottle & more!

You can find out more about Shaping Futures here.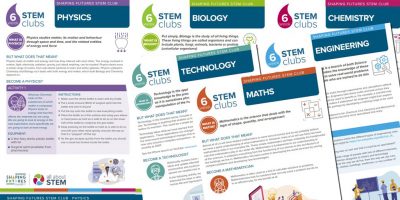 Royal Air Force – 6 Week STEM Club Resources – Space
We have partnered with The Royal Air Force for many years collaborating on outreach, events and activities. This year we're celebrating by offering these exciting projects about Space.
Learners can build a lunar Base Camp, land an Egg'naut, design rockets and satellites and investigate the heat of the sun with chocolate!

You can find out more about RAF Youth and STEM here.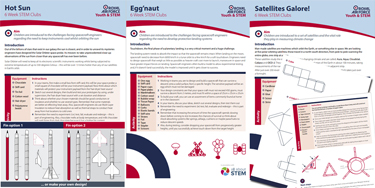 Getting Started with 6 Week STEM Clubs

Get started with 6 Week STEM Clubs with our 'Everything You Always Wanted to Know' file & there are six sample activity sheets for you to use should you wish. We've included a Six Week STEM Club Planning Sheet that you can use with these resources or for activities of your own.
Pupils can complete the Student STEM Club Diary sheets at the end of each session and, if you wish, you can send them to the All About STEM office at the end of your six weeks & we will award an All About STEM, STEM Club Certificate to each pupil!

If you find activities that work particularly well in your club, please let us know so that we can recommend them to other club leaders and don't forget to tweet us photos from your STEM Club using @MCSTEMHub @AllAboutSTEM @STEMClubs @STEMLearningUK – we would love to share them!
STEM Ambassador Inspiration!
Register with STEM Learning to request a STEM Ambassador's support to bring an extra dimension to your sessions. You could have a STEM expert on hand to excite and engage your members. STEM Learning have a full selection of STEM club resources too!

All About STEM works on lots of exciting STEM projects. As part of the STEM Learning family, we manage the STEM Ambassador Hub in Merseyside, Cheshire and Warrington, working closely with the regional Science Learning Partnerships in Merseyside and Warrington and Cheshire and Stockport. Follow STEM Ambassador Hub Merseyside & Cheshire on Twitter .
Follow All About STEM on Twitter here
Like All About STEM on Facebook
« Back To News