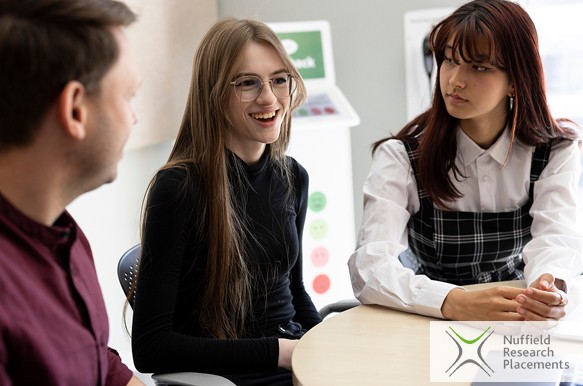 November 14th 2023
Apply: Year 12 Nuffield Research Placements – North West-Specific Application Information
All About STEM is delighted to be the Nuffield Coordinator for the North West, covering Cumbria, Lancashire, Merseyside, Greater Manchester and Cheshire.
Our role is to recruit and support businesses, academic institutions and other relevant stakeholders to host Y12 students to undertake a Nuffield Research Placement and to work with successful students applicants, and their teachers, to ensure the very best experience for all involved.
Nuffield Research Placements are funded by the Nuffield Foundation and delivered by STEM Learning. They are engaging, hands-on research projects, where students have the opportunity to make a meaningful contribution towards the work of a host organisation.
This is a brilliant opportunity for students to apply skills and knowledge learned at school and work alongside real-life experts!
Nuffield Research and Experience Placements in the North West
Although a national programme, Nuffield Research and Experience Placements are managed by a network of regional coordinators. This means there can be slight differences, for example with application submission dates, in how the programme runs in each area.
Click the button for information specific to our North West region and to watch our student application video: 
Questions? Contact our team directly: [email protected] 
During a Nuffield Research Placement students can:

– Develop subject understanding alongside research and quantitative skills to expand career prospects
– Learn more about higher education and different career paths
– Enhance UCAS personal statements and applications to university.
– Apply for a Gold CREST Award 
For full national programme information, please visit the STEM Learning website. This will provide further details for students wishing to apply to take part, teachers planning to promote the programme in their school/college and organisations interested in hosting placements. 
More: Take a look at some fantastic student feedback!

All About STEM works on lots of exciting STEM projects. As part of the STEM Learning family, we are Nuffield Research Placements Coordinator for the North West and a STEM Ambassadors Partner supporting the National STEM Ambassadors Programme via the STEM Ambassadors Community.
Follow All About STEM on Twitter here
Like All About STEM on Facebook
« Back To News