July 22nd 2016
Big Bang North West 2016: Sponsor Amanda Follit is an 'Amaze'-ing Mentor!
Amaze exhibited an interactive Oculus Rift Experience at The Big Bang North West and generously sponsored the Digital Excellence Award as part of The Big Bang UK Young Scientists & Engineers Competition. Congratulations to Head of Digital Operations Amanda Follit, for being spotlighted in STYLIST Magazine as an 'Amaze'-ing mentor!
"I would say I have been mentoring and coaching people informally and organically throughout my career. I was approached by the head of an organisation in the digital field, word spread from that and I now mentor a number of women from the digital industry.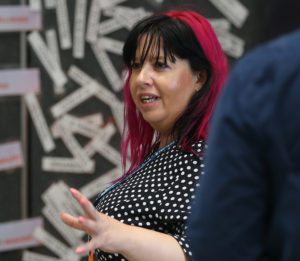 At the same time, I have become involved with an organisation called Liverpool Girl Geeks, which helps to inspire confidence in 12–14 year olds. I've run sessions at workshops aimed at helping teenage girls to 'find their voice'.
I really love listening to people, but also seeing their confidence develop."
Read in full at STYLIST Magazine…
The Big Bang North West is a STEM celebration for school children and part of a programme led by EngineeringUK. Big Bang events enable young people to discover the exciting and rewarding STEM based careers available in their local area via fun, interactive activities.
Along with all of the amazing stands, shows and exhibits, The Big Bang North West hosts the semi-final of The Big Bang UK Young Scientists & Engineers Competition.
Amaze were pleased to sponsor the Award for Digital Excellence, presenting this to students from Future Tech Studio to recognise their excellent work!
The Big Bang North West: Express your interest for our 2017 event!
Official Gallery: Thousands of children inspired at The Big Bang North West 2016!
The Big Bang North West 2016 Gallery: Behind the Scenes
The Big Bang North West 2016 Gallery: BBNW LIVE TWITTER 'TRENDING' NATIONALLY!
Headline Sponsors AstraZeneca 'Heat Up' The Big Bang North West
Big Bang UK Young Scientists & Engineers Competition: Winners & Awards
The Big Bang North West 2016: Booming Online!
The Big Bang North West 2016: Your Amazing Feedback!
The Big Bang North West 2016: A Teacher's View

« Back To News